A journalist recently used the phrase 'January-without-end' to describe the year's start, and one suspects that much of February will feel the same, given that it begins with three weeks of Mercury in retrograde and the sluggishness that implies. It may seem like Groundhog Day, but a glance at the chart for the Aquarius new Moon of February 11 is an omen of major change, societal as well as personal, at which we are only at the start.
Leading the way are Jupiter and Saturn, who meet only every 20 years, and in February are joined by Sun, Moon, Mercury, Venus and asteroid Juno to form a 'stellium' with a new Moon February 11. From such small seeds mighty oaks do grow.
Naturally there are calls that this is the start of that elusive era, The Age of Aquarius – as there were in 1962, the last time we saw a major stellium in the Urn Bearer. Best not to get wrapped up in tiresome speculation about that particular date, on which no-one agrees, and which describes only a chimera. It's enough to note that right now there's a lot of Aquarius around, and hope that the sign's democratic impulse – the Urn Bearer pours for all – plays out well for humanity. What Jupiter and Saturn might hold for each sun sign are given below, and at greater length in Your Stars 2021.
With Venus prominent in the chart for February 14, I would like to wish my readers a happy, floral Valentine's Day.
Major Events
January 30th – Mercury goes retrograde.
February 1  – Venus into Aquarius
February 11 – New Moon at 19.05 GMT
February 18 – Sun into Pisces at 10.43 GMT
February 21 – Mercury turns direct (i.e. forwards)
February 25 – Venus into Pisces
February 27 – Full Moon in Virgo at 08.17 GMT
Aquarius
Your skies are currently brimming with planets (not forgetting asteroid Juno), one of which, Saturn, will be sticking around for two years., making this year's birthday a time for a deep breath and a firm resolution to achieve It's time to deliver. What happens this year and next leaves a long legacy.
Helping you with your plans is quicksilver Mercury, which spends the first three weeks of the month in retrograde, a perfect time for deliberation, planning and the discard of unwanted clutter and outlived identities. Anticipate delays and do the detail. Have a plan B. The communications planet is with you until March 16, so choose your words with care – they count. Jupiter, racing through your skies, brings an air of anticipation and bonhomie. Venus is also here to conjure up a new outfit and encourage some eye fluttering on Zoom. The new Moon of February 11 – quite a day for a birthday – could be the start of something big, to quote an old song.
You won't get it all your own way, not with Mars sniping at you all month (home looks noisy) but right now it's your world and other people have to live in it.
The month of Pisces doesn't alter the big picture, though the Sun and full Moon across your financial axis is a reminder that your big plans may cost, and that you need full information. And Saturn likes to be in control.
Happy Birthday
Pisces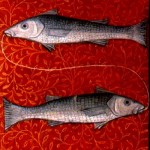 A stellium in one's twelfth house often calls up descriptions of inner rather than outer journeys, this being a place of retreat, sanctity, secrecy and evaluation of the past.
As much is not everyone's cup of herbal tea, but it does offer other possibilities, and holds important clues to timing. In two years, Saturn will arrive in Pisces for a transit that will call for resolve, focus and energy – it's time to make your mark, regardless. 2021/2 is therefore a time for preparation and planning. This is where a touch of secrecy comes in – it isn't the time to swagger about your plans, they're yours, not a giveaway.
The twelfth house is also about connections to other realms, and with ruler Jupiter there should be no shortage of fresh ideas among you creatives. Your ever canny instincts are there to guide you. Take your hunches seriously.
Oh, and find out if you have any planets in Aquarius.
The month of Pisces, or rather its early days, deserves special note this year. Firstly, the Sun arrives a day earlier than the date given in many horoscope columns – on February 18 at 10.44 am. Secondly, your ruler Jupiter will arrive in this same place on May 13 and be lingering thereabouts for ten weeks; a sweet card to draw from the astrological pack, a right-time right-place transit. These are seed moments, so take note of what's 'going down' or going on in your head.
You also have a full Moon in full operation in your opposite sign of Virgo over February 27. Keep those Loony Tunes playful, especially around your other half.
Aries
Your reaction to a stellium of planets in Aquarius should be 'Bring it on!' The aggregation, which includes Jupiter, represents a fresh wave of people in your networking zone, carrying quivers of innovative ideas.
February, with Mercury retrograde, has that wave crashing in slow motion; a good time to edit your address book, get in touch with old buddies and lost flames (Venus and a flicker of romance are in the mix, especially around Valentine's Day) and start figuring out how exactly you can turn 2021's auspicious planets into positive outcomes, including cash money.
That last subject may be touchy just now. Ruler Mars is in your zone of finances and squares off against that stellium in February, a clash between idealism and pragmatism perhaps. An Aries doesn't like to feel stuck, but best not try and spend your way out of a difficult situation, at least not until Mercury takes off the brakes on the 21st.
The month of Pisces is invariably a lull before the storm that arrives with your birthday season (unless you have planets in the Fishes). The full Moon in Virgo on the 28th is the cue for retreat and wellbeing, but just before, on the 25th and 26th, Luna in Leo makes for a ground-breaking couple of days.
Taurus
When a stellium of planets occupies your tenth house, the place where you make your public mark, you can be sure that weighty issues are involved; career, status, property. February is the time think hard about such matters and where you expect to be in a couple of years' time. That Mercury is in retrograde (until the 21st) suggests there is no need to jump without thorough investigation, tarry a while but do get a plan in place.
The impulse to get on with things is nonetheless strong in February. Mars in your skies is a pushy energy and the red planet's clashes with the stellium, especially around the 11th and the 20th, require recognition that others can be just as stubborn as you. Showing flexibility is a good idea given that Prometheus in your skies will play a dominant role for many Bulls this year, a planet that doesn't care for business-as-usual, which happens to be the default setting for many Taureans.
The month of Pisces promises to speed things up. The Sun in a water sign encourages trade and mutual back scratching, especially once your ruler Venus arrives in the Fishes on February 26. The full Moon in earthy Virgo over February 27/28 highlights friendships and romance; see if you can locate some of each.
Gemini
A year dominated by planets in a fellow air sign should prove a tonic for the Twins. Think big, both in terms of adventure and career, where Jupiter and Saturn promise new horizons and new ventures. Jump at what's on offer, but not too quickly in February, when your Mercury ruler is on the first of its three retrogrades this year (all in air signs, including your own). An ideal few weeks to reconnoitre, re-evaluate and scheme; the brakes come off later in the month when Mercury moves forward (from the 21st).
Those fresh horizons may have to stay on the virtual level for now. Jupiter is happy with concepts as well as actual travel, though its presence here throughout (almost) 2021 does give your 'scope an enticingly international quality. Perhaps Venus, is in the midst of that stellium, involves a long-distance love affair or contact. Jupiter here also smiles on those of you mixed up with education, whichever side of the classroom you are on.
The month of Pisces, with the Sun atop your solar 'scope, brings a nudge to career matters, which loom more pressingly come March. The full Moon of February 28 is a marker along the professional road, an abrupt interruption rather than an ending.
Cancer
After two years of Saturn in opposition from Capricorn, not forgetting January's Sun in the Goat, a less pressured 2021 beckons. The stellium of planets in Aquarius in February puts emphasis on money matters, and how to squeeze more out of your assets. There is no better times than to review them than February, with Mercury in rewind urging a cold eye on what you own, and what you can usefully dump. And what you are owed. Streamline your modus operandi and – why not? – follow Oliver Twist's example and ask for more, perhaps from a partner who takes your contribution for granted.
With Venus in the mix, not least around the new Moon of February 11, there is also a secretive quality to one particular association or pursuit. It may not stay hidden for long, however, since Venus's arrival in Pisces at the end of the month promises a more upbeat, even joyous spell in March.
Your network of allies, friends and fellow travellers is onside and open for business, if in somewhat bullish form, requiring you to give as good as you get. Mutual benefits are what you are after, with February 23, when Luna is in your (and her) skies, is a good moment for a clinch deal.
The month of watery Pisces customarily brings a following wind for the Crab, no less so this year, and the full Moon of the 28th is for once less an ending than a new start, or a combination of both, with siblings in the frame.
Leo
Little ol' you (or big, bold ol' you) sits alone on one side of the zodiac while a stellium of six planets is opposite this month. You may well be feeling momentarily outnumbered or overwhelmed. Planets in your seventh house represent all manner of significant others; spouses, ex's, bessie pals, business partners, and sometimes you have to juggle their assorted demands. A retrograde Mercury returns you to old issues, perhaps old grievances, while Venus in opposition means you can broker peace in the valley in your usual (it says here) gracious way. Venus further suggests you go heavy on the Valentines this year.
With Saturn and Jupiter present, there is both commitment and freedom on offer this year. Saturn in opposition is no pushover but you can negotiate its demands with patient application. Jupiter is where you find freedom – not as a solo act in many instances, though partnerships may need, what's that word, 'space'.
The month of Pisces moves you onto financial issues, not just cash in hand but your ties with other people's assets. Nothing too terrifying about that, providing everyone's playing by the rules. The full Moon of the 28th brings such matters into focus. Before that, Luna is in the Lion's skies 25th/26th – worth a treat!
Virgo
Your ruler Mercury is on its first backslide of the year during the first three weeks of February, a chance to sub-edit your glowing manuscript or add the finishing touches to the painting you are about to submit, and to fine tune your formidable health regime. Not the time to force issues. Incidentally, the message from that stellium in Aquarius is to become a super-Virgo this year (an uber-Virgo even) however you interpret Virgo's role (clue, don't believe everything you read).
Your own skies are empty apart from the asteroid Vesta, named after the goddess of the hearth, and embodying the duties of keeping the home fires burning and tending 'the sacred flame'. Doubtless a good Virgo does those things already. Your astrologer, no asteroid devotee, mentions Vesta because she is in your skies for the first six months of 2021 and is currently in exact opposition to Neptune, a planet that has a destabilising streak. Birthdays circa September 10 take note.
The month of Pisces, your opposite but complementary sign, has the ring of enchantment round it after February 26, when an exalted Venus moves into opposition to ginger your romantic life (mmm, get closer). Then there's the annual Virgo full Moon over the weekend of 27/8th, – a bit too loony for some of you, but also a chance to bask in the limelight. Make it so.
Libra
The planets don't get much more obliging than a stellium in your fifth house of joy, fulfilment and romance (Aquarius in your case). The parties may have to go on hold for now but matters close to your heart are dazzlingly aspected in February. Set your personal compass for the long as well as the short term; with Saturn here for two years you should be into serious projects for a protracted haul; if you have no such projects then the new Moon of February 11 is the time to find one or two.
Ruler Venus is here to keep social relations on a sweet note, and introduce new people into your life, while Venus's encounter with a retrograde Mercury (exact on the 13th) suggest a reassessment of a friendship or love affair as much as a new Valentine. ('Alas I threw it all away' or 'Whatever happened to…"). Venus square Mars on the 24th is a more pressing moment; someone touchy sending you a bill for alleged debts (as in 'You owe me big time') or a grouchy lover.
Dance on regardless. You have plenty to prove this year and have the backing to make it happen. The month of Pisces asks only for disciplined application – you can manage that – and a recess of deep me-time on the 28th.
Scorpio
In your more paranoid moments, you might feel that 'they' are all against you just now. A stellium of planets in Aquarius lie at the root of your 'scope, squaring your own skies, while in opposition is your ruler Mars, which can feel like an act of betrayal in itself.
That Aquarian stellium is asking long term questions about your security, a stable future, a decent home…issues like that, which take time to resolve., February offers plenty of thinking time, with Mercury sliding backwards through Aquarius, but try to come up with the seed of a resolution around the new moon of the 11th. Practical issues take over as the year progresses; right now you need what Us president termed 'the vision thing'.
Mars in opposition is short term, until March 4, but capable of bringing with it storms of passion, whether of the 'mad desire' or 'get out my life' variety. Some Scorpios will be accustomed to such scenarios. An easy way out is to disengage, especially as you look on the back foot anyway.
The month of Pisces comes as charm and balm. The Sun in your solar fifth house is a time to be yourself in an uncontested way, and an exalted Venus, arriving on the 28th, promises deep-scented romance. Find a bower. 
Sagittarius
Restlessness is part and parcel of being Sagittarius, with 'Don't Fence Me In' as your signature tune. That sentiment applies in a couple of different ways this year. With ruler Jupiter in the zone of idea, communications and education, your noble intellect and funky keyboard should be popping. This month Jupiter and Saturn are joined by a slew of other planets in Aquarius, a sign brimming with innovation of the kind that might inspire a painter to go abstract or an intellectual to discover a new line of research. Whatever the issue, here's a moment to consider a different approach.
That Mercury spends the month dilly-dallying in Aquarius suggests a pause for thought but also underlines that there's lots to think about. The recent full Moon of January 28 (opposite Jupiter) may have illuminated issues. Once Mercury behaves, after the 21st, Jupiter is in a hurry, and so you should be.
The Centaur's own skies are empty apart from the lunar North Node (eclipses to come) and the asteroid Juno, name after the wife of Zeus and said to embody a give-and take attitude towards partnerships. Your astrologer is not a full member of the asteroids club, but Juno is back and forth here throughout 2021, while next month sees the arrival of Mars in opposition, a combination that might make sparks along the lines of 'I expect loyalty'/'I need more space'. We'll see.
The month of Pisces is a sharp nudge in the ribs to get a move on and the full Moon over the weekend of the 27th finds you, however improbably, somewhat in the public gaze.  
Capricorn
It's still early days in the crossover between last year (Saturn in your skies) and this year (Saturn has left the building, so to speak). There's no better time than February for an assessment of what's been achieved and what is left to undertake, what with Mercury retrograde in your zone of values and possessions. The first place for your back-and-forth ruminations is therefore cash money, income, outgoings, what's owed, what you need to shell out for and so on. Be thorough, be prepared for glitches and figures that don't add up.
It isn't a case of all money and no play make Jacandra a dull girl. Mars in your fellow earth sign of Taurus, a place of joy and fulfilment for your sign, promises a socially upbeat month. Clearly you won't be gladhanding acquaintances at Aquarian birthday parties, but romantics among you have a following wind even if – especially if – it's your familiar squeeze involved.
Mars being a forceful presence, you might also wrestle with your creative output, up your yoga time, and generally apply a little muscle to your affairs, including the endless boxes in storage in the attic.
The month of Pisces lightens your load – water for your earth means you can shift from Mountain to Sea Goat. February 19 has a gleeful touch to it, thanks to a Moon/Mars transit, and the full Moon of February 27, in earthy Virgo, promises a bright weekend with which to greet March.
Your Stars 2021
There will be far more about the astrology of 2021 in a special Your Stars 2021, now available to buy. This includes a 1200 word forecast for each individual sign alongside an overview of the year and the shape of the new era (for so it looks) socially, culturally and politically.
Your Stars 2021 comes wrapped in a PDF format. The price is £7.99.