There's no time for a preamble this month, your astrologer being behind the deadline curve. Let's just say that there is a heck of a lot of Leo action going on in July, and if you have any Leo pals, you can be sure you'll be hearing from them. If you know your birth horoscope, planets in Leo or Aquarius need checking for closer timing and resonance.
Major Events
July 10 – New Moon in Cancer at 01.17 GMT
July 11 – Mercury into Cancer
July 22 -Venus into Virgo
July 22 – Sun into Leo
July 24 – Full Moon in Aquarius at 02.27 GMT
July 28 – Mercury into Cancer
July 28 – Jupiter retrograde into Aquarius
July 30 – Mars into Virgo
Cancer
Much of June may have proved pleasant without delivering outcomes to your plans and schemes. As much would tally with Venus in your skies during the long trudge of retrograde Mercury. However, since the Sun stepped into your sign at the solstice, you are entitled to expect – nay, demand – more in the way of feedback, thanks, and congratulations, not to mention financial remuneration.
The astrological equations are simple enough; Venus and Mars in your zone of ready cash, and Mercury the communicator ('influencer' even) finally reaching your skies on the 11th. The quicksilver planet is then at full speed, however, meaning it's with you fleetingly – for 16 days – when you need to be quick on the verbal draw. Unless you are on hols, get to work!
Other planets urge the same. The new Moon of July 10 is a bright time for a restart (and a top birthday, natch) and the presence of Jupiter in kindred water sign Pisces is a potential gift horse (there may be an actual equine element). You can also add into the equation support from your team of choice.
Downsides? Not too many. Pluto in opposition remains no-fun but is relevant chiefly for birthdays circa 16/17 July. Just before the full Moon of July 24, Luna passes by Pluto, when you may be confronted with a relationship that has become, frankly, unworkable, perhaps even toxic. In short, it's likely time to bail out. Take heart; Venus is keen on new (and provocative) affairs right though late summer and early autumn.
Happy Birthday.
Leo
The month of Cancer, when your Sun ruler is behind the scenes in the Crab, is often downtime, whether chosen or enforced. There looks little chance of that this summer. Yes, the Sun will be skulking in your twelfth house of secrecy and navel-inspection, and the new Moon of July 10 is oriented to the welfare of mind, body and spirit – give those matters due space – but your 'scope is dominated by pushy, attention-hungry planets. Mars in your sign can make you a (hu)man-eater of a Lion if you aren't wary, especially in July's first week (square Prometheus opposition Saturn fact fans).
Happily, Venus is also in your skies to calm the savage beast and bring out your inner friendly tigger. The two planets meet at mid-month (exact on the 13th) to make you dashing lover or seducer of the month. Grab the role while it's going (until the 22nd).
Your mighty Sun ruler reaching your skies on the 22nd is, of course, a cause for celebration. Bring on the birthday feast, drafts of noble rot and the adoration of dear chums (and anyone else present). The full Moon opposite you over the next two days, may however, prove a reckoning point for this year's relationship scenarios – Saturn in ongoing opposition isn't there to make your life easy but to ensure you are putting in a full shift both at work and with you-know-who.
Also ongoing is the transit of Prometheus across the roof of your 'scope – a sure fire disruptor of complacency (birthdays circa August 5 take note), but equally a supplier of excitement and opportunity for an ambitious Leo. Play to the gallery – your speciality. Mercury in your skies from 28th urges quick decisions and self-confidence. Not that the latter is ever in short supply.
Virgo
The thrice-yearly retrogrades of your Mercury ruler are hardly devastating, but they can be damn annoying, especially when, like that in June, they concern professional matters, or even status. July is firstly a matter of correcting misapprehensions and cockups from June, and then of forging on boldly with job and career. (And if you have no such thing, here's a good moment to find one).
The month of Cancer is, at its most simple, water for your earth and supporters for your cause. The new moon of the 10th emphasises this is a prime time to be a team player and call on your fellow professionals for help (it can be a mutual thing). Fellow travellers and partnerships, however loose and expedient, are a major feature of a month when Prometheus (in Taurus) and Pluto (in Capricorn) are strong in the planetary mix.
Then, likely on a more personal level, there is Jupiter, retreating out of opposition by the month's end, but still a taster of how fruitful partnerships and more intimate contacts can be. In 2022 you have Jupiter here all year, so thoughts on recent involvements are in order.
Planets in Leo are less helpful (unless you have Leo placements in your birth 'scope, as many Virgos do), and Mars and Venus in the Lion may call for an introspective phase en route to the end phase of July, when Venus arrives in your skies – on the 22nd – to encourage you to press the charm button and dust down your finest frocks.
Libra
Your astrologer did mention in June's forecast that 'status, reputation and accountability' were likely to be called into question after the summer solstice, and that was without thinking of the UK's disgraced ex-Heath Secretary, a plausible but dishonest Libran charmer. Clearly that ain't you, but the new Moon of July 10 still suggests a new cycle in your career is beginning, especially now that Mercury is out of its challenging retrograde of June.
So, despite summer jollities – which are beguilingly on offer – keep in mind that the season of the Crab is fundamentally about re-asserting your professional prowess, or at least your public profile, and with Mercury atop your 'scope, talking yourself up is a well-advised option.
In support of that imperative is your Venus ruler in Leo in the zone of fellow-travellers, alongside Mars. Now there is an excuse for a charm offensive, using all your skills as diplomat and dealmaker…plus, if you are in the dating game, an opportunity or three to meet and greet, or to turn a friendship into something more intimate. Over the weekend of the 16th/17th, with Luna in your skies, your super-powers are intensified.
As Venus leaves Leo on the 22nd, the Sun arrives in the Lion to take over congeniality duties. All you have to do is stay on an even keel – no mood swings please – and you look set to cruise through summer. The full Moon of the 24th/25th suggests you put yourself first and, if necessary, make a spectacle of yourself. In the nicest most tasteful way possible of course.
Scorpio
Two distinct strands of your horoscope present themselves in July. The first is largely impersonal – as in you are dealing with the powers-that-be, the hard heads of money, property and career. With ruler Mars and, later, the Sun crossing the roof of your 'scope, you'll need your undoubted will power to keep them in their rightful place (i.e., not pushing you around). With a little luck – and Venus is alongside Mars in mid-month, you can use your charms to enhance how you are viewed. Either way, a high public profile is pretty much de rigeur in July.
More personal is the energy gushing round the zodiac's fellow water signs, Cancer and Pisces, reminding you that your sign is fundamentally emotional and intuitive, and that your hunches are frequently correct. The Cancer New Moon of the 12th signals a re-start for your private ambitions. Here, you may be forced to confront some uncomfortable truths with which you have been battling in recent months. The energies symbolised by planet Prometheus – in ongoing opposition – are uncompromising, though not always unkind. If a partner or ally no longer fits your frame, then it's time to move on to make room for a new face. And it may well be a new face that triggers your decision, a new person or a new interest, but one that can't be easily ignored.
Sagittarius
June was surely not without its fun moments, but equally was not a time when answers to your many questions arrived, not with a wayward Mercury and hefty eclipses involved. July and August look more convivial but also pushier. The action in your kindred fire sign of Leo accounts for the first, linking you to far-away places (even if you can't get there) and to simpatico people – indeed, the alliance of Mars/Venus at mid-month is quite the ticket for up close encounters.
How you feel about existing relationships may have been a bit of a tussle in June, and while things look steadier in July, the opposition of Pluto to the Sun on the 17th should make it clear about how much commitment is available from either you or the other party.
Things take a more cerebral turn at the end of the month, when your ruler, Jupiter, moves back into Aquarius then for the rest of the year, emphasising your intellectual capacity and teaching and communication skills. Almost simultaneous is the full Moon of 24th, also in Aquarius, which points you in the same direction.
At the peak of your 'scope, the month closes with Venus and Mars there, a cue for a high profile in your career and, as usual when mars in involved, the capacity for the odd scrap with a colleague.
Capricorn
Behind the stoic, flinty realism of the Mountain Goat is that more mysterious and emotional creature, the Sea Goat, with its fishy tail. This is the creature with which to identify in July, when the Sun and a new Moon in watery Cancer – your partnership sign – emphasise your emotional life, specifically your partnerships. the new Moon of the 10th is a moment to renew your commitments and make a fuss of your other half (they put up with you after all). Romantic or not, value your allies.
The flip side to this rosy scenario is provided by the Sun opposing Pluto in your own skies on the 17th – when enough is enough, especially for birthdays circa 15 January – and/or by Prometheus in Taurus in your fifth house of romance, when running off with someone new makes most sense. Or, if you're single, brings a thrilling newcomer into your life – well, you can hope, especially if your birthday is circa 3/4 January.
The sea goat will also be in action, perhaps in turbulent seas, on July 22/23, when an almost full Moon passes through your skies. Might as well make the most of it and show off a little.
Events at the end of the month, when Venus and Mars move into earthy Virgo and Jupiter retreats into Aquarius, don't much alter the scenario. With the Sun in Leo you are still in emotional tides, though you might also check that your pot of gold is still where you buried it.
Aquarius
A deep breath is a good way to start July, given its somewhat dramatic character, one centred on little old you. Your astrologer suggested June as a time for quiet assessment, but in July you will have to do your assessing on the run. For starters you have Mars and Venus in opposition, the former inclined to disagreements, the latter to love calls. The meeting of the pair on the 13th looks like a moment for a mix of both, a moment of potential passion.
Venus moves on at the 22nd, and Mars on the 29th (phew) but by then the Sun is established in Leo to keep you on the back foot, if only in terms of low energy. However, a full Moon in Aquarius on the 24th – the first of two in your skies this year – makes that weekend look something special, hopefully a touch of happy delirium rather than a couple of days in the werewolf suit.
This Moon, and the ongoing retrograde of ruler Saturn in your sign, may pull you back to the good resolutions of your birthday. So too may the return of Jupiter into the Urn Bearer's skies for the rest of the year, a welcome omen for August and beyond. Think big.
With so much going on, the more mundane side of the month may pass you by, but July is good for work and health as well as drama. Talking of which, Prometheus, oft touted as your ruling body by modern astrologers, remains the jack-in-the-box in your 'scope, especially for birthdays in early February. If you are weary of the same-old, change is on tap in the blink of a decision.
Pisces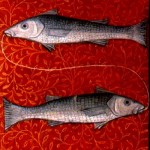 Having people around who believe in you is a big part of 'living the life' as the saying goes. In July there seems to be no shortage. The Sun in watery Cancer promises support from friends and lovers, and if you are trying reset your love life, the new Moon of July 10 is all in favour. And now that you are out of the go-slow of June's foot-dragging Mercury retrograde, creative projects should unfold like summer flowers.
Whether it's your latest masterwork or simply the daily drudge, your 'scope is obliging, plus, with Jupiter still in your skies until the close of July, you have a following wind, the sort that blows away stale issues, perhaps even stale people.
There's a change of tone towards the month's end. On the 22nd Venus arrives in opposition to dazzle singletons with appealing faces, and to make peace with those with whom you are on the outs. Mars follows on the 29th, a sterner test of your one-on-one relationships. Before that comes at a full Moon on the 24th – this lies behind the scenes, and again has a cleansing feel, this time to do with people and issues from the deep past. Straight afterwards Luna spends the 26th and 27th in The Fishes, a bright start to a new week.
Aries
The brakes are off now that Mercury is bounding forwards once more. The season of the Crab is not always to the Ram's taste – it can get a bit fusty, a bit cramped, but this year any issues with the clan, or with The Man, are overtaken by your ruler Mars being in fiery Leo until the end of the month, with Venus also in the Lion until the 22nd, to be followed, of course, by the Sun itself in Leo from the 22nd.
The emphasis on matters leonine has a simple message – 'Lead from the heart', as your astrologer advised last month. To take things further; show off, strut your stuff, behave like a spoiled princeling or an over-privileged princess if you must, but make people aware of your individuality and what you have to offer – and whatever that is, be generous with it.
And be sociable, play for the team as well; as for yourself. At the other end of the Leo axis is Aquarius, where Saturn has spent 2021, and will be there until the close 2022. With the ringed planet in retrograde, you can catch up with officialdom, consolidate your gains and renew your membership of whichever club or clan you favour. There are two full Moons in Aquarius this summer, the first on July 24, plus Jupiter shifts backwards into the Urn Bearer at the end of the month, so being part of the collective is important.
The 29th and 30th, with the moon in Aries, may give you a flavour of the incoming astrological weather, part of which is your planet in Virgo; time to be particular and reflective as well as a show-off.
Taurus
There is plenty to enjoy in July, plenty of company on offer, plenty to achieve, and plenty of food for thought, but little of value comes without input from you. Passivity is your enemy just now, thanks to Prometheus breaking new ground in your sign, and if you stay static when the winds of change blow, well you simply get blown away.
That is not to say you can't consolidate what you already have., With ruler Venus crossing the base of your 'scope alongside Mars, and from the 24th with the Sun in the same spot, the domestic set-up is ripe for an overhaul and update, while there is strength in your family ties. The Sun in Cancer, with a new Moon on the 12th, represents a blast of fresh air in your social circle. Social distancing notwithstanding, don't stay stuck.
The various celestial bodies in Leo all impinge on Prometheus in your own skies, emphasising change, not least for birthdays in early April, while Saturn remains atop your 'scope to remind you of the importance of professional attainment. It's not a package for the faint-hearted, as the full Moon of the 24th may emphasise. However, a lighter atmosphere beckons at the end of the month, as first Venus and then Mars move into fellow earth sign Virgo. Your ruling planet here is at its most delightful, smiling on romances, friendships and taking tea and sticky buns on a velvet lawn under summer skies. Seek and you shall find.
Gemini
There's a bit of catching up to do as the month opens and ruler Mercury completes its nine-week transit of your skies. Events surrounding the two mighty eclipses of the previous six weeks also need to be fully evaluated, not least because you get a re-run of them at the end of 2021.
July should feel easy by comparison with your birthday month. A new Moon in your cash zone alongside Mercury is a cue to chase up debts. The action in Leo, where Venus and Mars spend much of the month, offers playtime among friends, a frisson of romance and respect from your neck of the 'hood. If you are in education or IT, you have a following wind.
Career matters are at an intriguing point. Jupiter, poised at the peak of your 'scope until the end of July, underlines the need for a high profile (even if you are, frankly, not doing much) and gives a taste of what's to some in 2022, when the giant planet id here for the entire year, and when recent near-misses on, say, promotion, can return and hit the mark.
The planet's return into Aquarius, a fellow air sign, is no cause for glumness, however. In your solar 'scope the sign of the Urn Bearer represents travel and the higher mind – your personal quest – and with Saturn also there, the next six months ask you to pursue your dream with vigour. The full Moon here on July 24, with another to follow in August, add emphasis and urgency. If you don't yet know what your quest is…well, here's the time you uncover it. Planet Prometheus, somewhat secluded in your 'scope, is eager you should do so, not least this very month.