The zodiac is often best considered not as twelve signs but as six complementary and sometimes contradictory pairs. The best example is that of Leo and Aquarius. The former is the sign of the exalted individual and the notion that all of us can become king or queen in our way. The Urn Bearer points out that no man or woman is an island, that all of us rely on society, to which all should contribute. Leo is royalty and rule by diktat, Aquarius is the republic and rule by democracy.
The planetary picture in August is dominated by these two signs, as the mighty Sun passes through Leo, enroute opposing Saturn and Jupiter in Aquarius, with a new Moon on August 8 and a finale of an Aquarian full Moon on August 22 in the last degree of the Urn Bearer.
The other sign prominent in the mix is Taurus, simply because Prometheus in the skies of the Bull is doubly activated, first by being square the new Moon, and secondly by being at an apparent halt ('at station' as astrologers say) before several months of apparent retrograde.
That looks like a recipe for political unrest – Prometheus is always looking for a fight! – and for technological breakthrough – Prometheus is always looking to invent, and being in Taurus, the technology is likely to be focused on the natural world, hopefully to help reverse two centuries when humanity has effectively declared war on nature. Currently, global warming and rivers and oceans choking on chemicals and plastic are reminding us that wars can be lost.
Major events
August 8 – new Moon in Leo at 13.30 GMT
August 11 – Mercury into Virgo
August 16 – Venus into Libra
August 22 – full Moon in Aquarius at 12.02 GMT
August 22 – Sun into Virgo
August 30 – Mercury into Libra
Leo
It's birthday season! And with your mighty Sun ruler in your skies, you are for now unconquerable, the key words there being 'for now'. Back at the start of 2021 your astrologer cautioned that with Saturn in opposition, you would have to go the extra mile to realise your ambitions this year, and August and September may come as a harsh reality check on your progress…or a celebration of triumph in adversity. As much depends on your resilience and application to detail.
Best be honest, 'fess up to your shortcomings (should you have any) and recalibrate for the next six months. The new Moon of the 16th favours tough, radical decisions for at least the next six months, probably longer. The second full Moon in your skies this summer applies across the weekend of the 20th-22nd and is all in favour of a giant knees-up…providing you come back to earth thereafter. One issue facing you this month and next is money – how to make it and, let's face it, you likely need a little more coin cash in the cookie jar – the other being smooch your pals and siblings to help out. Parties aside, summer looks busy. Happy birthday.
Virgo
Here it is, one of the most urgent, impatient months of the year! As much may surprise you since you have had Venus in your skies for the last ten days, encouraging you to look languorous and play droll. By all means continue to play the siren for the first half of August, but from 29th July you have warrior Mars marching through Virgo (until mid-September), meaning it's also time to get pushy, critical and demanding – qualities that, of course, others may already assign to you (another surprise). Virgos are far from the meek creatures painted by astrological convention.
Plus, ruler Mercury shows up on the 11th for a brief stay to add speed and decision to the scenario. The year's major planetary scenario lies to one side of your sign – across the Leo-Aquarius axis – but no sign is immune from this larger picture, and there is an atmosphere of fate/kismet around in August, not least at the full Moon of the 22nd, with Luna immediately moving to oppose your sign over the next couple of days.
Then it's wham-bam as the 22nd opens the Virgo birthday month in pushy, purposeful style. Your sign if often portrayed as blushing Virgin, but from here through to next month you look as much gangster, 'tooled-up' and ready for trouble. Looks as though you can make some extra money too!
Libra
The first suggestion from your horoscope (instruction perhaps) is that you maintain the effort you promised you would make back at the start of the year. Likely it involves a practical matter – a project, a vanity project even – but not an overnight affair, something that calls for a steady input of energy – a garden, a book. Saturn's pole position early in August highlights your hard-won successes, and places where you have come up short.
It's in many ways an agreeable month, nonetheless. The Sun in Leo is about companionship and teamwork, with the allegedly 'bad luck' Friday the 13th splendidly aspected with the Moon in your skies.
Better still is the arrival of ruler Venus in your skies on the 16th, promising three weeks to swan around in your top frock dispensing charm and good advice, and if you're in the dating game, coming up trumps. The full Moon weekend of the 22nd deserves special attention. Whatever your game – love, cricket, art – you look a winner. Make some time for rest thereafter; you will need to be at your most energetic in September.
Scorpio
It's summertime and the living is meant to be easy, but there's a relentless quality to your horoscope just now, a challenge to keep your profile high and your projects on course. August is perhaps a less fraught than July, but the new Moon of the 8th is insistent that you put your best self forward and re-ignite your career. If a radical change of direction is called for, don't baulk at it. This is no time to get stuck in the mud.
Ruler Mars is, however, no longer in such provocative aspect, and over the next six weeks suggests you can fly in the company of teammates and well-wishers – no harm in cultivating contacts, especially once the Sun had moves into Virgo's skies on the 22nd.
Romance? Well, the tumultuous variety is still in play for many Scorpios, the kind that demands you leave the family home for a new life with a new lover. That's often the deal when Prometheus is on full beam. The less dramatic kind is also in potential play, the sort that intrigues, toys with your emotions and sometimes turns out to be a bit of a swindle, which is the deal when Venus and Neptune run the show. You get a taste of both over the weekend of the 14th and 15th when the waxing moon is in Scorpio. Work hard, play hard, enjoy!
Sagittarius
The Sun in fellow fire sign Leo gives you a following wind, especially for travel, but first you must find a destination worthy of a soar away – not so easy currently. Nonetheless, the full Moon of the 22nd, which is conjunct your Jupiter ruler, comes with connections to distant places or people therefrom.
While the Leo connection promises a certain ease to the first three weeks of the month, planets in Virgo ask you to prove your mettle professionally. Mars here, ever spiky, is likely to uncover any hostile forces, though it's individuals that are the issue, not 'the system' itself – with Saturn in Aquarius, you should be able to negotiate your place in that.
The parade of Virgo planets passing across the roof of your 'scope may help solve ongoing issues about your domestic set-up – as in, uncertainty about where and with whom you should be living. The next six weeks bring such issues to the boil, while also suggesting solutions. With a retrograde mercury on the horizon, decisions taken sooner rather than later are favoured.
An empowered Venus from the 16th is insistent on a social dimension to life, however you perceive that – something less than an all-night unmasked rave in a crowded nightclub perhaps – which is where many romances begin. Be in and around your team.
Capricorn
There is both dynamism and 'stuckness' in August's stars. The latter relates to money matters, where retrograde ruler Saturn and moneybags Jupiter look moribund and in need of due attention. As much goes double for intimate relationships where money figures large (marriage for example!). It's a good time to rethink and renegotiate contracts. The full Moon of the 22nd may coincide with a fiscal hiccup (even Capricorns are not immune from the occasional bump in the road)
On the dynamic side of things come planets in fellow earth signs. Mars in Virgo for six weeks lends a busy cast to your 'scope, one where you run around fixing problems (not just your own), running errands and the like. For more mental tasks an empowered Mercury from August 11th-30th is ideal for dashing off a few theorems, and for meet and greet missions.
Both Mars and Mercury in Virgo, (plus September's new Moon) align with planet in Prometheus in Taurus, thus forming a triangle of earth signs with Capricorn. This is certainly a pro-active, even unsettling set of signifiers, but outstanding for problem-solving. Bold strategies are those to go for, whether the issue is practical or emotional/romantic. Capricorn is a pushy sign (just sayin') but small 'c' conservative with it. Promethean events, however, are either radical in themselves or demand radical solutions. Could be time for your personal revolution.
Aquarius
It's been six months since your birthday, and as your birthday month was so loaded with omens, decisions and events from then are likely back in the frame. Since Saturn is at the heart of them, property, career, major relationships, and problems with elders are all contenders for the issues under consideration. You may not solve problems this month – Saturn is retrograde until October – but there are likely to be significant developments.
Relationships are stage centre, and July's stars, a mix of storms and love-ins, should have helped make your mind up whether one that began at the start of the year is still worth pursuing, or whether commitment levels need to be taken up a notch. In either case, the new Moon of August 8 offers a restart to your personal life, while the full Moon of August 22, which is conjunct Jupiter, may bring things to a close, or result in one of the pleasantly wilder weekends of the year.
Many relationships come with an undertow of money issues, and Mars in Virgo is about both the antagonism that financial inequality brings (i.e., someone paying more than their share and perhaps resenting it) and sorting out the joint spreadsheet. Venus here until the 16th helps keep things on an even keel. Thereafter, Venus in Libra opens the way for fresh encounters of a romantic kind…it's worth going well off the beaten track in their pursuit.
Pisces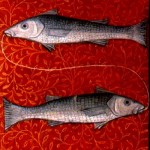 Find your play time as best you can. August begins with something of a reality check where your work is concerned, and the pressure may not let up until later in the month, with the full Moon of the 22nd, conjunct ruler Jupiter, something of a signing-off point.
Whether your one-on-one relationships come freighted with work, romantic passion, or friendship, they are all to the forefront throughout the month. They are, however, a jumble that calls for your discernment. Venus in opposition brings attraction, while Mars brings open enmities, along with all points between. An empowered Mercury, opposing you from the 11th to the 30th, offers a way out of disputes, which is to take the emotional sting out of them for a more dispassionate approach. You will have to keep talking, talking no matter what, always looking for middle ground, and always wary of people who just want to lead you up the garden path (a scenario especially pertinent on the 9th and the 24th/25th.
The arrival of the Sun in opposition from the 22nd maintains the pressure from partners into September, though you have survived as much many times before. August looks more like the business end of things.
Jupiter's departure from your skies may feel like an opportunity has deserted you (especially for birthdays circa 20 February), but this is not the case, more like a temporary disruption before normal service (plus!) is resumed at the end of the year.
Aries
There is more than one agenda in play in August. The simplest is, as outlined in July's forecast, that of Leo, which simply asks you to be your best, big-hearted self…to remind people what a swell gal or guy you are and generally live it up. If you are the creative kind, push hard.
Even gifted creatives need detailed, thoughtful moments in their enterprise, which is what your Mars ruler has in mind during its six weeks in Virgo. This period is very much about work, making a living, the routines that are required to get projects over the finish line (including a healthy mind and body). Thanks to Mars, it's an especially strong theme this year.
Thanks to the Sun-Saturn opposition early in the month, it doesn't look like much comes your way without effort. Whatever your plans, the end of the year is a realistic deadline. On your way there, invaluable help is on hand from fellow travellers – as your astrologer has previously emphasised, collective team effort is a major part of the year's strategy.
Your personal life should perk up from the 16th, when Venus moves into opposition for three weeks, a highly romantic position for many of you, full of attraction and temptation. (especially at the 25th/26th). For some, however, a Venus opposition is about exactly that, opposition, the kind that comes with the green horns of envy. You are not, however, obliged to respond in kind; solid friendships are a great antidote.
Taurus
Iron-willed Saturn has been at the top of your solar-scope all year, but August is the first time it has been opposed by the Sun, a likely way-marker in professional developments. Together with two full Moons in the same life-path sector, you are being offered a reality check about progress or lack of it in the impersonal world where most of us toil. Steady as she goes is always a good policy for a Taurus, but that isn't the same thing as sitting on your backside musing 'something will come along'. To repeat your astrologer's previous advice; passivity is your enemy. For many Taureans, especially early May birthdays, passivity is not even a choice; it's change or perish.
Happily, August's 'scope also comes full of help and positive developments. Planets in fellow earth sign Virgo – Venus, Mars, Mercury, and after the 22nd the Sun – all highlight your personal magic circle of chums and potential lovers, and your ability to stage yourself and your works in a publically arresting way. In. short, show off a bit! And for those in the dating game, hang out your 'come hither' signs (discreetly, obviously). The weekend of the 27th/28th, with Luna in your skies, looks a hotspot.
Underpinning everything is your home and domestic arrangements. No need to fret if those feel secure and affirming. If not, August looks a time for decisions about a change of domestic scenery – perhaps utterly sudden!
Gemini
Siblings and sidekicks provide one theme for August, as in Batman and Robin, Noel and Liam, or any number of Kardashians. Sometimes being a double act is helpful, especially when chasing long term goals. Shop around for help. Bright ideas – a Gemini speciality – are also in the frame, especially around the full Moon of the 22nd.
Sibling themes shade easily into more general family matters, and with Mars, ruler Mercury, Venus and (after the 22nd) the Sun all transiting your fourth house of kin, home and domesticity, this seems to involve some hard talking with the clan ('home truths' as the saying has it). Or it may involve your lovely home being turned upside down by the builders, a change of flatmates or even some enforced eviction (not yours hopefully).
Alleviating domestic stress is Venus's move into Libra on the 16th, where the planet can live up to its reputation as romancer and social butterfly; cruising your favourite cafes and getting moved by the latest art expo for example.
Cancer
There are a few issues to work through in the first half of August. Money is clearly one of them. With the Sun, a new Moon and Mercury in your cash zone, picking up some extra readies doesn't look too much of a challenge for a bright spark like yourself. The new Moon of the 8th comes with clever solutions attached.
More problematic are the financial commitments you may have, mortgages, debts, contracts and the like. Saturn been emphasising such weighty matters all year, but the Sun's passing opposition to the iron planet is likely to make them feel heavier than usual, and to remind you that intimate relationships often depend on a just financial settlement. The time to fix any problems is before Saturn returns to forward motion in October. The full Moon of the 22nd is another way marker where ownership is concerned- a time of revelation perhaps. Prometheus, strong in the mix mid-month, may offer a more dramatic solution to your problems; a fresh pair of eyes on the problem, or running away with a new, fast friend.
However, there are breezier elements in play. Mars, Venus and Mercury in Virgo spell ingenuity, assistance from friends and siblings, and a touch of romance being right under your nose, though with the green planet moving onto Libra on the 16th, there is a contested quality to your intimate connections, if only temporarily.