After the drama of November's eclipses, December presents us with a less alarming planetary picture, at least once we are past the full Moon of the 8th. The annual full Moon in Gemini is no great thing in itself, but this one comes exactly alongside a backsliding Mars, which may give it added bite, a time of contention and a war of words perhaps.
After that we slip into a long season of Capricorn, led by Mercury and Venus, the latter now an evening star, floating above the Christmas trees across the festive season. The winter solstice on the 21st heralds a new Moon in Capricorn on the 23rd, which arrives in tandem with Jupiter's return to Aries – with two critical degrees in the zodiac animated at the same time, this feels like a welcome restart, although 2023 seems in no hurry to get going, not with a retrograde Mercury ongoing until mid-January.
Wishing a Merry Christmas and a joyous New Year to all my readers.
Celestial events
4 December – Neptune turns forwards in Pisces
6 December – Mercury into Capricorn
8 December – Full Moon in Gemini at 04.08 GMT
10 December – Venus into Capricorn
20 December – Jupiter into Aries (until May '23)
21 December – Winter Solstice, Sun into Capricorn at 21.48 GMT
23 December – New Moon in Capricorn at 10.17 GMT
29 December – Mercury turns retrograde until January 19
Mars spends the month retrograde in Gemini
Saturn spends the month forwards in Aquarius
Prometheus spends the month retrograde in Taurus
Neptune spends the month in Pisces, forwards after the 4th
Pluto spends the month forwards in Capricorn
Sagittarius and Sagittarius rising
December looks eventful. With Venus in your skies until the 10th you might as well ladle on the charm, dress up a bit, throw a birthday party, however modest, and generally start the season of goodwill early. That message is doubled as you face a full Moon in your opposite sign of Gemini on the 8th – no biggy in itself perhaps but with Mars precisely conjunct the Moon, you may find yourself facing a contrary partner – the climax of a simmering dispute maybe – or an arbitrary piece of hostility. Without surrendering your independence, stay all smiles if you can.
The other major news concerns Jupiter, the Centaur's undisputed ruler. The giant planet has slipped back from Aries into Pisces over the last ten weeks – perhaps to solve a problem concerning home and hearth – but moves back into fiery Aries at the solstice to promise several months when you are in prime position as mover and shaker, romantic and cheerleader. Be quick out the traps, especially if you were born in late November. Talking of which, Happy Birthday to all Centaurs.
 Capricorn and Capricorn rising
It may be foggy at first – planets are behind the scenes or distracted – but once the full Moon of the 8th is out the way you're set up sweetly for December, Christmas and your birthday month. Venus in your skies from the 10th through to New Year casts you as party animal of the season – at least, it's your mission should you accept it, but you can keep things low key should you prefer. Of particular note is Mercury the communicator in your skies from the 6th. The messenger planet turns retrograde on the 29th, meaning that you need to be scrupulous with your planning, to be careful what you promise, and to have a need a plan 'B' up your sleeve for new year celebrations and January. Almost business as usual then.
Your birthday month arrives loaded and ready to roll. No sooner have you dragged home the yule log than a new Moon arrives on the 23rd and is aspected by Jupiter at the very peak of your solar 'scope, an omen of good fortune for your career. December birthdays are first in the frame for significant developments, but with Jupiter sailing across the roof of your 'scope until May, everyone gets a squeeze.
Aquarius and Aquarius rising
The promise of heavy social activity opens the month – heavy as in lots of it with plenty of potential consequences. With Venus involved some of those may even by romantic – more of which shortly – but much of the meeting and greeting looks of the backslapping 'what can we do for each other?' Variety …small 'p' politics if you like. The full Moon of the 8th aligns with Saturn in your own skies to help move on your major quest, be that business or creative in nature. The full Moon also aligns with Mars in your zone of fun and romance, though how much fun there has been in romance these last few weeks is a pertinent question. Mars here is an exciting presence but as the red planet is in reverse, affections are subject to revision, and you may have to endure several weeks more before things reach resolution in mid-January. Creatively speaking, Mars urges you to revise, refine and polish your treasured canvas/ concerto/screenplay – the one that's been driving you nuts this year.
Once Capricorn takes over at the winter solstice, the picture becomes softened. Secrecy and the past may be prominent as you head into Christmas, but the outlook is bright nonetheless – Jupiter in Aries sparks up your idealism and glamour planet Venus arrives in your skies shortly after New year. Pip pip.
 Pisces and Pisces rising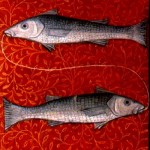 You'll likely be pushed into the limelight early in the month whether you choose so or not. The Sun is sailing across the roof of your solar scope along with Venus, and the full Moon of the 8th looks forceful – you may as well embrace whatever public profile you can muster.  Ruler Jupiter remains in your skies until the solstice, another reason to boost yourself up – in the most charming, modest manner of course. Resolve any outstanding issues from the last few weeks, especially emotional storms or home concerns (see below).
Planets sliding into Capricorn present you with few problems – sociable, yuletide times are likely with Venus here but keep an eagle eye on your diary as Mercury turning retrograde – from the 29th – is ever keen on a touch of chaos. The new Moon of the 23rd comes with powerful friends and contacts attached, not least for February birthdays. Mars at the root of your scope continues to pose domestic challenges, most likely mere bricks and mortar, but with the red planet's retrograde ongoing, repeated efforts to fix problems are likely required.
Aries and Aries rising
It may prove difficult to keep up with a horoscope that is both encouraging and demanding. The Sun in fiery Sagittarius is a big plus point, favouring grand plans (however impractical) and useful contacts. The full Moon of the 8th, with ruler Mars alongside, offers further encouragement, albeit with difficult questions attached. No matter, your energy looks plentiful, your mood optimistic. The first weekend of the month with the Moon in your skies is much favoured
The solstice brings challenge, albeit of a positive kind. Jupiter, the planet of largesse, has spent much of 2022 in your skies – from May to October – before slipping back into Pisces in recent weeks. Jupiter's favours aren't automatic – more a case of counting your blessings and not taking them for granted – but this is a planet you want on your side. The new moon of the 23rd comes precisely aspected to Jupiter at the peak of your 'scope, an omen that suggests you harness your energies to career and public recognition. Mercury turning retrograde on the 29th suggests you first enjoy the festivities and fine tune your plans.
 Taurus and Taurus rising
You may opt to take a breather between November's turbulent planetary weather and the more upbeat energies promised from mid-November. Your ruler Venus moves into fellow earth sign Capricorn on the 10th, which eases the path of love, romance and prosperity. And a joyous Christmas of course. The Capricorn new Moon on the 23rd does much the same thing, with an interesting perhaps secretive link to the past and karmic matters.  Late December looks busy and with a Mercury retrograde involved, plans need to be both meticulous and flexible.
First comes the full Moon of the 8th, which highlights financial matters in an uncompromising way, being next to Mars. Since Mars is backsliding until mid-January, any money tangles look to take time and patience to rectify. Persistence, your strength, helps. So may close friends – Jupiter's final few weeks in Pisces are all about support from big-hearted allies and lovers.
 Gemini and Gemini rising
Professionally speaking, you have had clearer paths than just now with Neptune strong in the planetary picture, there is usually an odd mix of confusion and inspiration. Nonetheless, with Jupiter completing its somewhat challenging stay in your career zone, there are opportunities to consider and take. There are also swanky people to meet, especially once Jupiter changes sign at the new Moon of the 23rd. Christmas may prove a time of sugar mommas and daddies.
First though, comes the full Moon in your skies on the 8th, which is exactly conjunct Mars, the red planet still being in your sign, albeit retrograde and in less harsh disposition than is customary. Relationships of all stripes are lit up at this time, be they romantic (and with Venus in opposition, early December has a loving feeling) or disputes that call for your best skills of arbitration and compromise. Once Venus moves on, at the 10th, sorting out financial wrangles moves up the agenda, and with Mercury going into awkward, retrograde mode just after Xmas, sharpen your accounting skills, pronto.
 Cancer and Cancer rising
Support may seem sketchy as the month begins, though any international contacts are there to be…contacted! The opening week or so looks dominated by the need to get jobs completed and to organise ruthlessly. Perhaps as a solo act. The full Moon of the 8th is behind the scenes, but Luna, still powerful, will be in your skies over the weekend of the 10th, by which time friends and allies are lending their support. Indeed, with Venus in opposition for the rest of the month, solid friends and partners and potential lovers are all strong in the mix.  Venus conjoining Pluto (as it does every year) on New Year's Eve could signal a primal attraction …or a final curtain.
The annual new Moon in Capricorn arrives early – on the 23rd – and arrives strong, making a perfect angle to Jupiter, which will be at the apex of your 'scope and ready to renew its favours on your career path. It's a powerful omen, not just for December but for months to come (until May).
 Leo and Leo rising
The astrological weather is something of a jumble in December, but coming after the challenges of November, your attitude should be 'Bring it on!' There is nothing to fear about the season of Sagittarius when your ruler the mighty Sun, passes through the most vivacious, pleasure-oriented sector of your 'scope, and with Venus in tow until the 11th, you may as well indulge yourself. What's the point of being astrological royalty otherwise? The full Moon of the 8th arrives next to Mars and concerns your circle of pals and fellow travellers, but with Mars in retrograde, you may find yourself examining one or two team memberships and concluding they have run their course.
As December progresses, the emphasis moves towards practicalities and duties – no cause for alarm as the Capricorn new Moon of the 23rd brings with it a startlingly exact aspect to Jupiter in your fellow fire sign of Aries, representing ideals, learning and travel. Jupiter has spent several months in this sector in 2022 but after backsliding briefly, this is very much a renewal of optimism and canny connections. hopefully with money and high-class work attached.
 Virgo and Virgo rising
Flying solo in your career? Given the ongoing transit of Mars at the top of your 'scope, you may have to carve out your own niche in December and January and be prepared for the odd workplace battle with a hothead along the way. The full Moon of the 8th, when Mars is joined by Luna, may prove a peak moment. It's certainly one that points out the contrast and clashes between home and professional life.
The relationship zone of your 'scope – planets directly opposite you in Pisces – is for the moment overloaded, brimming with asteroids plus a re-animated Neptune and the last few weeks of Jupiter there. Whether than means bewitchment or disillusion is a hard one to call, particularly for birthdays at the end of your sign.
Things become more upbeat as December progresses, as ruler Mercury, Venus and finally the Sun move into your fellow earth sign of Capricorn and the pleasure zone of your chart. Time for parties, flirtation and the delights of the season, also for getting your affairs in order before ruler Mercury backslides on the 29th. The new Moon of the 23rd gives you licence to boss people around a little and to see if Jupiter, back in a money zone of your 'scope, can make you richer.
 Libra and Libra rising
Your horoscope, like many Librans, is a thing of many moods this December. Friends and family are resolutely on side throughout…though if you are planning an overhaul of Villa Libra, be prompt and complete well before Mercury turns retrograde late in the month. The mood is bright and breezy as the month opens, with Venus alongside the Sun in the zone of quick wits and bright ideas. The latter is likely to turn into grand schemes at the full moon of the 9th, when Luna in Gemini is alongside Mars, which continues its backslide through the Twins. Since Mars doesn't straighten out until mid-January, there is no rush to bring your brainwave to reality just yet. Ruler Venus in Capricorn from the 10th brings you back to earth with a bump.
Possibly the most significant action comes on the 23rd, when the new Moon in the sign of The Sea Goat makes a perfect aspect to Jupiter, which is back in Aries and your relationship zone after ten weeks going AWOL. Although 'lucky' Jupiter has spent much of 2022 in Aries, this feels significant because of its prime position in the first degree of the zodiac and sparked up by the Sun. September birthdays are first in line with the good news but this promising transit has months to run. Enjoy.
 Scorpio and Scorpio rising
While you may need to reflect on last month's eclipses in your sign (and your opposite number Taurus), your 'scope is keen to move right along. First in the frame, courtesy of the full Moon on the 8th are financial matters. With your ruling planet Mars sliding backwards in the zone of shared money and conjunct this Moon, a little turbulence would come as no surprise. Once over this bump in the road, however, Mars is on its way to a mid-January turn-round.
A plan would help.
In the second half of the month, Venus and Mercury occupy a more congenial position in Capricorn, where friends, siblings and neighbours are onside to help. You also have the promise of Jupiter in fellow water sign Pisces. The giant planet is finishing up its transit of the Fishes, promising to finish with a delightful burst of pre-Christmas festivity before moving on at the Solstice. If you have any ongoing crushes, could be time to make them known.