There is no such thing as a good time to catch covid, but it was especially galling to contract the virus straight after Christmas, when confronted with writing an astrological forecast for the year ahead. Fortunately, a major part of the astrology for January has been a retrograde of Mercury – in operation until the 18th – and a retrograde of Mars, in operation until the 12th, both of which spell delay and catch-up rather than instigating a new phase in one's affairs. Hopefully, this glance at the twelve months ahead hasn't been set back too badly.
2023 – A Year of Transition
How do you like the Roaring Twenties? The 2020s that is. Astrology has long foreseen the decade as one of upheaval, its challenges reflected in several era-defining planetary cycles. It certainly started bang on astrological time, with the global pandemic arriving in January 2020 simultaneous with the meeting of Saturn and Pluto, a conjunction whose deadly history Includes the outbreak of World War One in 1914 and the partition of India in 1947. As those two examples show, Saturn-Pluto events have a long tail, and the ravages of Covid-19 (or other zoonotic outbreaks) are similarly not vanishing any time soon.
The decade has roared on in alarming fashion. The gruesome conflict raging in Ukraine is a reprise of Pluto's deathly themes and began as Mars – Gustav Holst's 'Bringer of War' – conjoined Pluto in late February 2022.
Amid the gloom, the cosmos is offering hopeful omens. The response to war in Ukraine has seen a collective revulsion and a renewal of democratic alliances, at least in Europe and the United States. As much reflects the ongoing emphasis on the sign of Aquarius, where Saturn and Jupiter met in December 2021 (the pair conjoin only every 20 years), and where Pluto will arrive in March 2023 for a two decade residency, though Pluto is only in Aquarian skies briefly this year, from 23 March to 11 June, and slides back and forth between Capricorn and Aquarius until January 2025.
Astrology holds all signs equal, but the 1960s made Aquarius more equal than others, thanks to a lot of hippy hullabaloo about The Age of Aquarius, a deeply suspect concept with an anthem (from the 1967 musical Hair) hoisted up the pop charts by the appropriately named Fifth Dimension. Those still anticipating its promised era of 'harmony and understanding' clearly have a long wait.
Yet Pluto in Aquarius signals both hope and deep change.
Contrary to its reputation as a sign of individualist liberation – which is deserved in many cases – Aquarius likes order, though it is humane and egalitarian in orientation. An air sign much concerned with knowledge – which the Urn Bearer pours for all – and centered on community and co-operation, Aquarius stands in contrast to the materialist sign of Capricorn, where, since 2008, Pluto has reigned over an era of austerity, kleptocracy, where might is right.
Pluto shows where power lies, so the age of populist 'strong men' will perhaps give way to a more democratic dispensation once the planet is fully present in Aquarius. But first Pluto, lingering at the end of Capricorn, is likely to deliver more unpleasant autocratic behaviour. Pluto's arrival in Capricorn in 2009 coincided with the greatest financial crisis since the Wall Street crash of 1929, and its exit from the sign of the Goat may likewise herald a major global recession. Such a forecast depends on which economists you consult – they are rarely in accord, economics being as much a voodoo 'science' as astrology, and often less accurate.
Pluto, as Lord of the Underworld, is often a dark force and on the downside its presence in Aquarius suggests more micro-controlled societies where the authorities 'know what's best' and privacy is a mark of guilt. Face recognition of people 'predisposed to crime' is already with us. So too algorithms gleaned from online spying. Merely checking one pukka TV chef's online recipe requires the data-wary to refuse ten different cookies. This is George Orwell's Big Brother with a smile.
Pluto's transition from Capricorn to Aquarius hangs over several national horoscopes, not least those of Ukraine (b.24.8.1991), Communist Russia (b. 8.11.1917, modern Russia (b. 12.6.1990) and the USA (b. 4.7. 1776). In Ukraine's case Pluto suggests the country's resurrection in Spring 2024, when the planet reaches Saturn in Ukraine's 'birth chart'. Simultaneously Pluto reaches Saturn in Russia's 1991 'birth chart' and likewise describes resurrection, not necessarily as a friend of democracy – that seems too much to hope for. Meanwhile Russia faces economic chaos in 2023 as signalled by a Uranus transit of the chart for the country's national bank.
The United States continues to face its 'Pluto Return', as said planet returns to its position at the nation's birth 245 years ago. Under this transit – ongoing until 2024 – the U.S. is confronted by its 'shadow', its darker episodes and failures. Slavery is the big issue here, as it was when England faced its own Pluto Returns. The first was in the late 1550s when the birth of the Elizabethan 'Golden Age' also saw the first British slave ship sail in 1562 under captain Sir John Hawkins (a prime candidate for statue-toppling in Plymouth). England's next Pluto return in 1801 saw both The Act to Abolish Slavery in 1807 and the country's formal Union with Scotland to become the United Kingdom in 1801.
Similar transformations await the U.S.A. Will the country become the multi-racial democracy promised in its constitution? Or ossify into a gerrymandered Republican fiefdom prepared to declare martial law, as almost happened in the 2021 attack on the Capitol? How about independence for California? The stakes are high, though the Aquarius Moon in the U.S. horoscope suggests its democratic ideals will prevail.
Uranus and Neptune signify global change
While Pluto and Aquarius hog the planetary headlines, they are not the only omens in focus during the early 2020s. The two other 'outer' planets, Uranus and Neptune, likewise signify global change. Uranus is now halfway through its seven-year transit of Taurus, an earth sign much concerned with economics, and has lived up to its reputation as an inventive, disruptive force. Crypto currencies, a marginal phenomenon a few years back, have proliferated dizzily, as have the online apps like Agru and 'fintech' banks like Revolut and Monzo, that handle them. Crypto has crashed in 2022, but it isn't going to disappear – for starters, it's far too useful for criminal activity.
Government versions of crypto – Central Bank Digital Currency (CBDC) – are with us – October 2021 saw the launch of the e-Naira, Nigeria's own CBDC. The Bank of England is actively considering its own CBDC – in December 2022 chancellor Jeremy Hunt told parliament the government would bring forward a CBDC consultation 'in the coming weeks'.
Crypto's sibling, 'Non-Fungible Tokens', have crashed and burned since their elevation a year or so back – NFT art is now described as 'worthless'. Nevertheless, Donald Trump recently raised substantial funds by issuing 45,000 NFT 'Trump Cards' at $99 apiece, each card depicting the former president in heroic guise, a modern-day version of bubble gum cards.
The other domain by governed by Taurus is the natural world and its bounties; agriculture, food and produce. Here too revolution remains in the air, be it as plant-based vegan diets, or as lab-grown meat that takes cells from living animals but requires no slaughter. Insect-based foods and menus are another facet of this new frontier. The world must hope that Uranian ingenuity comes to the rescue when confronting a world in which the degradation of the natural world remains the biggest threat to human prosperity and, indeed, survival.
Pisces is the other sign under emphasis this year and next.
The meeting of expansive Jupiter and idealistic Neptune is not uncommon, arriving every 13 years, a cycle closely linked to humanitarian political initiatives, but their conjunction in Pisces in April '22 was the first in The Fishes since 1856. In the UK, the sign's visionary spirit was reflected in the foundation of the National Portrait Gallery and the Science Museum, and in the heyday of the Pre-Raphaelites. Utopian ideals, currently conspicuous by their absence, may yet return to a fragmented, cynical UK.
In 2023 Saturn will move into Pisces, Jupiter into Taurus, and Pluto into Aquarius, followed in 2025 by Neptune and Uranus respectively moving on to Aries and Gemini. That all the solar system's heavy hitters should change sign in such a short period is a rarity that heralds profound change, with the ecological crisis its most obvious focal point. Generation Z, born between 1995-2011 with strong Aquarian placements in its horoscopes, will then be coming of age; a youthquake to save the most important planet of all; Earth.
 Celestial events 2023
 Sun Signs
The date of the Sun's entry into each zodiac sign varies sightly each year
Aquarius – 20 January at 8.29
Pisces- 18 February at 22.34
Aries – 20 March at 21.24
Taurus 20 April at 9.13
Gemini 21 May at 8.09
Cancer – 21 June at 15.57
Leo – 23 July at 2.50
Virgo -23 August at 10.01
Libra – 23 September at 01.04
Scorpio – 23 October at 17.20
Sagittarius- 22 November at 14.02
Capricorn -22 December at 3.27
Pluto is in Capricorn until 23 March, then in Aquarius until 11 June. The planet is back in Capricorn until 24 January 2024, eventually taking up residence in Aquarius from 19 November 2024 until 2043
Neptune is in in Pisces all year, turning retrograde on 30 June and forwards on 6 December
Prometheus is in Taurus throughout the year, retrograde until 22 January, then forwards until 29 August when the planet turns backwards again
Saturn begins the year in Aquarius and moves into Pisces on 7 March, where it remains for the year
Jupiter begins the year in Aries and moves into Taurus on May 17. It turns retrograde on September 5
Mars is retrograde in Gemini until 12 January, then marches forwards in The Twins until 5 March. The red planet then spends 6 weeks in each of the following signs: Cancer 25 March – 20 May, Leo 20 May – 10 July, Virgo 10 July 27 August, Libra 27 August -12 October, Scorpio 12 October – 24 November, Sagittarius 24 November – 4 January 2024
Venus begins 2023 in Aquarius and spends three weeks in each sign until its arrival in Leo on June 6, staying in The Lion until October 8, though retrograde from 23 July – 4 September.
Mercury is retrograde in Capricorn from 29 December 2022 – 16 January 2023
Retrograde in Taurus from 21 April – 15 May
Retrograde in Virgo from 23 August – 16 September
Retrograde in Capricorn 13 December – 2 January 2024
Eclipses
20 April – Total Solar eclipse in Aries
5 May – Lunar eclipse in Scorpio
14 October – Solar eclipse in Libra
28 October – Lunar eclipse in Taurus
Aries and Aries rising
Buckle up and brace for a new year of adventure, travel and romance. Then unbuckle and get busy with the left over tasks of 2022. The year begins with both messenger Mercury in retrograde and your ruler Mars in retrograde, inviting you to tie off any deals that have proved less than done and dusted, and to come over all Marie Kondo with the less streamlined parts of your home and possessions. From mid-January you are in the clear, and with mighty Jupiter in your skies, ready to prove what a poised, upbeat creature you are. The solar system's giant planet was in your skies for four months last year, from June to October, although it didn't travel far, affecting March birthdays principally. In 2023 Jupiter rattles through your sign by mid-May; all of you get a tilt at glory, get to rub shoulders with the so-called great and good, and maybe blag a free ticket somewhere sweet.
This early part of the year could be quite something, with ruler Mars moving forwards, at last, to put you in control. The spring equinox, at the very start of your birthday month, comes with a new Moon on March 21, and another new Moon, a total solar eclipse – on April 20. These are powerful omens of change, either chosen or enforced.
Jupiter leaves your skies in mid-May, but the month of Gemini quickly picks up speed as Mars and Venus arrive in your kindred fire sign of Leo, in the most enterprising, romantic, and pleasure-oriented zone of your solar 'scope. Throughout June and July, you are the zodiac's favoured party animal, though if you choose to devote your energies to creating your personal masterpiece, the planets are in accord. The retrograde of Venus in August may give you pause for thought about a particular relationship, or bring an old flame into contention, but the month of Leo, invariably good for you, remains metaphorically sunny.
September, with Mars in opposition and an eclipsed full Moon in your skies on September 29, is more challenging, but still focused on romantic dalliance and relationships. Autumn brings a more intense phase in such affairs, a pressure for decision perhaps. In the last phase of the year, it's the signs of Taurus and Scorpio that dominate the planetary picture; for you, a chance to recalibrate your financial situation and ensure that summer's creative surge/ hot romance/ good time rampage (delete to fit) has left you fully funded.
Taurus and Taurus rising
Looking to your sign's symbol, The Bull, offers little inspiration for 2023, its bovine qualities – placid, plodding, cautious – being quite out of sync with a planetary picture fizzing with change, spontaneity and daring. As much is enough to ring alarm bells for some Taureans, who yearn above all for a quiet, orderly life – and rest assured there are passages in 2023 when you can (indeed must), drag your feet, but the demand for you to be busy and productive looks pretty relentless.
The two main engines of Taurean change are Prometheus and Jupiter. The former planet has been in your sign since May 2018, but because it crawls through the zodiac, back and forth, its message of change and inspiration has been directed principally at birthdays up to May 10. In 2023 birthdays between May 5 and May 10 get a further spur (a cattle prod if you like) to buck up their ideas, while those born up to May 15 are on the end of those jangling, electrical, Promethean energies. A 'Eureka moment' or two call.
Jupiter, the planet of largesse, optimism, and downright good luck, arrives in your skies on May 11 for a year's stay (its last visit was 1999-2000), calling for you to adopt an upbeat, questing spirit. Show off a little – as the old Northumbrian saying goes, 'Shy bairns get nowt'. Jupiter is also a planet of wisdom, with your abilities as teacher (philosopher even) brought to the fore.
Adding to the excitement comes a lunar eclipse at the full Moon of May 5, in your opposite sign of Scorpio, in which Prometheus is mixed up; a handy moment to announce your divorce if such a thing is on your mind. your birthday month is a slightly confused affair in any case. Nine weeks of Mercury in your skies from April 4 is an empowering thing – bark your orders! – but the communications planet is retrograde between April 21 and May 15, when the usual mix of cock-up and misunderstandings prevails, and your voice goes missing.
Your ruling planet, fair Venus, is also playing up a bit later in the year. Venus in Leo holds no special terrors for you here, at the root of your 'scope, the zone of home, hearth, and family. Normally it would signify little more than a touch of D-I-Y around Taurus Towers, but with Venus retrograde from July 23 to September 4 there are likely to be complications, especially if a member of the clan decides to 'do a Harry' and upset the family apple cart. No matter the provocation, your mission remains to maintain peace in the valley.
In October you have further cause for a scrap as an empowered Mars moves into opposition, and a full Moon in your sign is eclipsed on October 28  – Autumn doesn't look your most empowered stretch of the year, although Jupiter remains onside to keep you buoyant through to a more stable December, when ruler Venus sparkles from your opposite sign to keep relationships cosy.
Two other events deserve attention. Saturn moving from Aquarius in March should ease professional pressures and put you in with the office in-crowd for the following year or more. Pluto hits the peak of your 'scope in the spring for a brief but possibly memorable moment if your birthday is April 20. Those of you born at the other end of the Bull's month – May 19 and 20 – are differently empowered, with the new moon of April 19 urging to finish up old business (especially financial). Pluto, for once, is on your side.
Gemini and Gemini Rising
It's likely to be an odd start to the year. Warrior Mars has now been in your sign for three long months, when you have doubtless been more than willing to fight your corner and retain what (or even who) is rightfully yours, but the red planet's retrograde phase through December may have brought second thoughts, and left plans in meltdown. That phase ends on January 12 when Mars moves forwards and blesses the following ten weeks with gusto and determination. Planets elsewhere are in obliging position, meaning everything is to play for, especially in your career.
The outlook changes, perhaps abruptly, around the spring equinox, when two major planets shift signs. The most important for you is the arrival of Saturn at the peak of your 'scope, the zone governing your public life (which is most obviously your profession) where the ringed planet, justly known as a taskmaster, holds sway for the next two years. Saturn invariably spells hard work, but also signifies achievement, where years invested in your career finally pay off. The important thing is to stick to your task with unflagging grit, especially during the first half of 2023, as you ease into what is likely a new role.
Helping you along is Jupiter in Aries, granting you welcome support from fellow travellers. Work that network, call in favours – once Jupiter moves on in mid-May, support from that quarter may prove more muted. With the skies of Aries supercharged over the spring equinox (a total solar eclipse on April 20 included), friendship circles are also buzzing…a departure may be involved.
The other planet to keep an eye on is Pluto. The distant speck moves into a fellow air sign, Aquarius or a brief three months across March, April, and May. While unlikely to prove a game changer at this point, Pluto's new position may offer a glimmer of what lies ahead in 2024 and beyond, especially to 21 May birthdays.
The ever annoying retrogrades of your ruler Mercury are largely behind the scenes this year, making your birthday month a straightforward prospect. Only the Mercury retrograde of early August rings alarm bells – someone in the family looks in grumpy mood…maybe you! The summer sees a long stretch of Venus shuttling back and forth in fiery Leo, an obliging enough position for you, and with Mars acting as passion planet when it reaches Libra in September, your social and romantic life looks in sprightly shape. Late autumn, with planets piling up in your 'must-do' zone, looks more mundane. Saturn will be back where it started in the spring – just to ensure you did all your homework first time round.
Cancer and Cancer rising
The first thing to bear in mind in 2023 is that Cancer is a Cardinal sign – i.e., pushy, though you prefer it others didn't see it that way, and in the first half of the year especially, the other three cardinal signs – Aries, Libra, Capricorn – are to the fore in your solar 'scope. Most helpfully comes mighty Jupiter in Aries, up at the peak of your solar chart, the zone where you carve out a professional reputation, and with 'lucky' Jupiter here until mid-May, you may as well go flat out to realise your ambitions.
Will as much be plain sailing? Of course not. Aries, a somewhat contrary sign for you, this year hosts two new Moons – and being ruled by the Moon, lunar events are of especial importance to Cancerians – the first on the spring equinox itself, March 21, the second on April 20, this being a total solar eclipse. That pair of Moons alone promises a shake-up in your career path. Experiment. Don't get stuck!
That eclipse is doubly important because it coincides with Pluto leaving Capricorn – and opposition – for the first time since 2008. Its absence is only for three months, but it brings a freshness to your 'chart, especially to birthdays at the end of your sign i.e. July 21 and 22. Pluto transits can be weighty, but only in rare cases involve being piled onto Pluto's chariot to be carted off to the underworld, though you may get a glimpse of that subterranean territory, even if's only in the realm of fiction.
Jupiter moves on from Aries in mid-May, to Taurus, which being an earth sign has an easy rapport with your watery self. Jupiter here for the next year grants you influence among your professional clan, collective organisations, committees and more. Be a team player. It's a very rewarding transit for business, especially given the futurist planet Prometheus is highly active during in the first half of the year. and with both Venus and Mars in Cancer's skies during May, turn your charm beam to full power.
Spring has another trick to offer, which is Saturn's shift into Pisces in early March, a place where the planet is less demanding, instead offering insights into your long-term future and favouring those of you in education and the academy.
The long sojourn of Venus in Leo, from June to September, need not overly concern you. For one thing, many Cancerians have planets in Leo (a canny combination), while Venus in its role as money planet (those treats, and parties don't come cheap) promises more of the folding stuff coming your way…and more opportunities to spend it.
The year hots up again once planets arrive in Scorpio in October, the Scorpion's skies representing a place of passion, enjoyment, and creativity, with Mars there along with the Sun, Mercury a lunar eclipse in Taurus and a new Moon on November 23. The impetus from autumn should carry you clear through to Christmas and a full Moon in your skies on December 27.
Leo and Leo rising
Impatient? You should be. Your horoscope as the year begins fairly screams 'Free the Leos', and with Mars in Gemini finally returning to forward motion in mid-January, you have momentum, helped along by Jupiter in your kindred fire sign of Aries. Mars has simply been moiling around long enough and is now heading for your own skies in May, a big month for you as we shall see. Jupiter in Aries, where the giant planet spent several months in 2022, is about discovering and pursuing your quest, the grail to which you can devote energy and time. If you are mixed up in travel, education, or the law, so much the better. Aries is highlighted early in 2023, with two new Moons there, the first on the equinox, March 21, the second a total eclipse of your Sun ruler on April 20, both of which urge you to shake things up and get a wiggle on.
March also sees a further moment of liberation as Saturn moves out of opposition after two and. half years of strict surveillance. Saturn in Pisces is a different story, more intensely emotional but less critical. Simultaneously, the dark Lord of Pluto moves into opposition for a very brief three months, just long enough to introduce itself to July 3 birthdays. More of Pluto in 2024.
Jupiter shifts to the apex of your 'scope on May 16, where it promises you favours in your profession and wherever you find an audience. You need and deserve to be on high profile thereafter for an entire year (don't worry, you'll manage, remember you are royalty). Career, as you may find, is a volatile subject in the first seven months of the year, as planet Prometheus   moves across the roof of your solar chart. Sudden changes of direction, unexpected offers (or unforeseen redundancies) are a likely part of the package, not least in August when a new Moon in your skies on the 16th makes a precise square to Prometheus.
But let's rewind to May, when Mars reaches your skies for a six-week residency from the 21st, closely followed Venus reaching the lion on June 3 and staying in your sign for an unusual and perhaps perplexing four months, as opposed to the usual transit of three weeks. Venus is, of course, the planet of romance, relationships, social gatherings, sugar, spice, and all things nice, meaning Leos can live like Lord or Lady Muck this summer. Bring on the parties, the meals, the high life. But even Venus has a flip side, and when retrograde during August you may be presented with equally extravagant bills, a touch of jealousy, and a possibly unwanted visit from an old flame. So, enjoy yourself, but don't act too much like real royalty.
You should be able to coast for the rest of the year. Planetary action in Libra moves along your social life sweetly, while that in Scorpio both asks you to renovate the Leo Palace and check whether your career path is as large, extravagant, and showy as you desire. Make it so.
Virgo and Virgo Rising
Let's start with one of your least favourite things; the retrograde of your ruling planet Mercury; a slight annoyance to be sure, but one that grates against Virgo's instinct for order and control. Currently, the communications planet is backsliding in Capricorn, until January 18, making agreements and plans somewhat conditional. In 2023 the spells of retrograde Mercury are worse than usual, firstly because there are four, rather than three, and secondly because they are all in earth signs, and all therefore on your case. The retrograde in Taurus in April is most likely to scramble travel plans, the retrograde in your own skies in late August most likely to trash your most personal agenda. Then next December you begin again in Capricorn.
So much for the tricky stuff – well, most it. You also start the year with another retrograde, that of Mars, stuck at the peak of your 'scope for weeks on end but finally on the move from 12th, and enabling you to get a firm grasp on career matters, which blossom in April when the red planet traverses your eleventh house of business, networks and wheeler-dealings.
You do, however, have another tricky transit in play from early March, which is Saturn in opposition from Pisces, your opposite but complementary sign. Saturn in opposition rarely comes with a light touch – the taskmaster planet seeks out your weak spots, buy in Pisces its ferocity is modified and in 2023 it doesn't progress far before returning to its starting position in November. By late June it has as announced its presence principally to August birthdays, with 2024 looming for most of September's birthdays. At worst Saturn in opposition can bust up a seemingly happy relationship, but it's equally likely to strengthen and deepen commitments – either way, decisions get made.
Saturn is likely the harshest transit you face this year, although Jupiter, resuming its presence in Aries and your eighth house of passion and resources (until mid-May) is no pushover. Money is attached to this transit – as likely someone else's money as your own, be it via an inheritance or a partner, but so too is an exploration of your inner self, your psyche, and the things that make you tick, taboo or not. Woohoo.
Jupiter moves onto an easier and more pleasurable position from May, and in earthy Taurus for the following year emphasises your desire for travel and for intellectual satisfaction – Jupiter in the 9th is almost blessed placement, much concerned with your personal quest and your personal grail. If you are uncertain what that is, here's your chance to find out.
Jupiter in Taurus is made more exciting because the Bull currently houses planet Prometheus, a planet that promises surprise and even disruption; sudden elevation to fame, or a topple from on high. Another slow-moving planet that has some of you in its sights is Neptune, which continues it long, slow crawl through Pisces, and making opposition to birthdays electrical energies are especially strong during your birthday season when it encounters Mars in your skies in an aspect exact at the new Moon of September 15 – quite day for a birthday!
Some things change only slowly – Neptune transit for example, and this year birthdays between 16 and 23 September must endure its uncertain charms and wayward moods. But all good things arrive in time, and in October Venus finally reaches your skies after spending four months in Leo and your zone of retreat. Venus moving opposite Neptune in early November makes a perfect moment for romantic bliss.
Libra and Libra rising
Ready Steady Go…Mars, the planet that governs relationships in your solar 'scope, finally moves forwards on January 12, its pent-up energy allowing you to re-invigorate your partnerships and clear away misunderstandings and faux pas from the last couple of months. More generally, Mars in Gemini is about freeing your life from clutter and debris. Those messages are re-enforced by a couple of other transits. Your Venus ruler in Aquarius during January is about bringing your charms to bear on romances, while Jupiter in Aries – and therefore in opposition – puts partnerships of every stripe in the spotlight through to mid-May, when the giant planet moves on.
Jupiter spent several months in Aries in 2022, but its transit this year is more urgent and complete, calling for you to engage fully with significant others (even foes) and to embrace new relationships and friendships likely to arise before May; a nice mixture of excitement and satisfaction. Aries is under unusual emphasis this spring, thanks firstly to there being two new Moons there – on March 21 and April 20, with the latter a total solar eclipse, the latter marking a major shift for birthdays on October 23 – people come, people go, or at the least your attitude changes.
Jupiter's shift into Taurus in mid-May also concerns relationships, albeit more obliquely. There is certainly plenty of passion in your one-on-ones over the next year – this is the zone of hot sex – but it may also involve a pooling of resources or money arriving from other people (a will for example). If you are interested in self-exploration, via psychotherapy or even the so-called occult arts, then you are in tune with Jupiter, and for that matter Prometheus, which is also passing through taurus.
However, you are obliged to multi-task for much of the year. Saturn's ingress into Pisces in early March lightens up your love life but puts greater emphasis on your work – getting hold of it and ensuring that it's more than just a way of raising income. In other words, you want meaning from your labours.
There is also lots of emphasis on succeeding in your career and being seen to do so. Mars tops your horoscope in April and May, alongside Venus, to be followed in June by the sun. Mars and Venus move on to Leo, a zone of intrepid wheeler dealing, of being a team player and friendship in general. Venus then spends the entire summer here, from June through September, and this being your ruling planet there is an overlap where the line between friendship and romance may blur. Best to ensure that neither yourself or another party is turning sour, as the flip side of Venus us is jealousy, the green monster. Stay upbeat and bright.
Your birthday season finds Mars passing through your skies to maintain energy levels and another eclipse, on the 14th, to keep you on your toes. From there it's barely a hop and skip through to December, with ruler Venus in your skies in November.
Your astrologer must also mention Aquarius, where Pluto makes its first entree since the eighteenth century. The distant and enigmatic planet puts its feelers into the sign of the Water Bearer for three months between late March and early June – no biggie for most of you, but birthdays on September 23, the day of the Autumn Equinox, might keep their sensors on for a change in the metaphorical weather.
Scorpio and Scorpio rising
Let's start with your ruling planet, Mars (do you really want to get lumbered with that dark speck Pluto? Really?), which after hibernating across mid-winter finally wakes up on January 12th and marches forwards in the sign of Gemini. For Scorpios, this is your solar eighth house, a zone associated with your sign – think sex, death (including le petit mort), intrigue, passion, shared resources, and regeneration – subjects which can usefully explore until Mars changes sign in late March. In other words, be as Scorpionic and witchy as you like.
Incidentally, Mars continues to do you favours almost non-stop throughout the year, accentuating travel in April and May, your status and career in June, July, and August, before arriving in your own skies in time for your birthday season, when you can turn on the super-Scorpio afterburners once again.
Mars alone should keep you busy in the opening phase of the year, but Venus, briefly in fellow water sign Pisces during February, also promises some sensual, upbeat moments. Pisces, representing your zone of enjoyment, is under continuous emphasis in 2023 and 2024, thanks to the arrival of Saturn in The Fishes in March. Saturn, a mean-hearted skinflint at worst, makes for a poor fit with a zone of celebration and romance, but Saturn also brings qualities of commitment and care that can stabilise volatile relationships and make older partners a more attractive proposition. Since this is also a zone of self-expression and creativity, Saturn may also help you to move a fond project from dream to realisation. That screenplay you keep meaning to complete for example. With Neptune in Pisces (still) you should have inspiration on tap, with Saturn you get the grit to complete the job.
Talking of work, the sixth house of your solar scope, where you keep the wheels of industry turning, is under major emphasis in the first phase of the year, with mighty Jupiter resuming its transit there (in Aries alongside a couple of new Moons and a solar eclipse in The Ram.) With no more retrogrades involved, the message is ultra-simple; crack on and seize your birthright as Milkman of the Month or Starlet of the Season.
Jupiter moves on to a more intriguing position in mid-May, in opposition from Taurus, where it will stay for an entire twelve months. This can be a most benevolent transit, hooking you up with important (perhaps self-important) people in mutually beneficial partnerships, or bring a special lover into your frame. Jupiter is not alone in Taurus – planet Prometheus is also here, and between them the pair should guarantee the arrival of memorable characters – Promethean types are usually left-field – and/or the disruption of partnerships and friendships you thought were settled.
Simultaneously across summer, your career path is unusually lit up, with Venus sitting atop your scope for four long months (rather than three short weeks). If you are in show business, or simply want to be seen (and admired), this is a good news transit. Dress well and push your luck a little. Even after Venus has moved on your 'scope has a rosy glow, with the romance planet in Virgo, and Mars in your own skies. The red planet roars onto Sagittarius in late November, to add funds to your account and with Venus in Scorpio as you approach the festivities, you are sweetly set up for Christmas. Enjoy.
Sagittarius and Sagittarius rising
Feeling hot? Even in midwinter your horoscope, at least, is warming up nicely. Well, hopefully nicely. Mars has been in opposition since last autumn, but has spent midwinter retrograde – frozen, if you like. With the red planet on the move, at least one relationship issue is on the way to resolution – even it's something of a bun fight.
More assuringly comes Jupiter, your undisputed ruling planet, in fiery Aries until mid-May. Mars was here for a goodly portion of 2022 but now moves straight through the Ram's skies, enlivening your romantic and creative life, bringing children into your world, and supplying you with some hot parties. Aries is very much alive this year, with two new Moons there, the second of which is a total solar eclipse, so matters of the heart look urgent and rewarding. Make it so!
In May Jupiter moves on to a less salubrious spot in your 'scope, the sixth house of work and health (think Virgo), where it promises to deliver plenty of rewarding jobs and tasks over the next year. With planet Prometheus in the same place, different roles may also be on the cards, for which November is a good shout. With your ruling planet involved, work is unlikely to be a four-letter word.
For you and other fire signs, summer is hot. June has high energy Mars in Leo, alongside Venus, whose stay in the Lion's skies is extensive – all the way through to early October. Although Leo is not the cauldron that is (for you) Aries, Venus here nonetheless speaks of romantic liaisons and travel, so cue sun-burned kisses on far-off beaches, or purposeful travel on a quest close to your heart.
Back home – presuming you have one, which has not been certain these last few years – Saturn's arrival in Pisces in March lends your wandering feet a more grounded presence over the next two years – the first half of 2023 is especially good for relocation to a happier place, Saturn being a planet that deals in property and a sense of security. Pisces being, like the Centaur, a 'double' sign, you may even be able to wangle a situation where you happily bi-locate.
There's a flavour of spirituality and retreat to autumn's transits, with a lot going on in Scorpio, but your birthday month begins with a bang, with red-blooded Mars arriving in your skies on November 24 and sticking around until new year, by when Venus has also moved into the Archer. Nice work if you can get it.
Capricorn and Capricorn rising
Stuck in the mud? With Mercury deep in a retrograde phase as 2023 begins, it may feel like it, but with the communications planet straightening up come Jan 18, delays are only temporary. There are three more phases of Mercury Retrograde this year and with all of them in earth signs, they all affect you in particular – dates for your diary for sure.
The new year is about more weighty matters than sluggish communications, however. At the top of the list is that your ruling planet, Saturn, changes sign in March, moving from Aquarius into Pisces, a more amenable position for you that shifts your identity from Mountain Goat to Sea Goat, a more flexible and sensuous creature. For the next two years, new places, new people and new skills are all more available.
All things considered you should be on quite a roll over the first half of the year. Jupiter spent several months in Aries in 2022, down at the root of your 'scope and is back here until mid-May, encouraging an open-minded attitude to your domestic arrangements – so yes, another wing on the old pile – and ensuring that the clan is a happy one.
Jupiter moves on come mid-May, to share the skies of Taurus with planet Prometheus. This looks like a winning, if exhausting combination, with the 'lucky' planet (or at least the planet of blind faith!) and the planet of upsets and surprises both illuminating the zone of your solar 'scope where you find joy, romance, hot parties, and rivers of creative juice. You may even consider throwing a bash or two of your own (the wine cellar could probably do with a clear-out). A combination that promises a lively summer then, requiring only a wholehearted response from yourself.
There will, of course, be spats along the way – April, with Mars in opposition, looks a likely time for a rumble, then there's September, when the red planet is glowering at you from the top of your 'scope, but for the most part you have a somewhat enchanted planetary picture. True, the long reign of Venus in Leo, from June through September, doesn't do the goat many favours, but nor is it obstructive; this being a money planet, you may even manage to enrich yourself at someone else's expense; great aunt Tilda's inheritance for example.
Then there is Pluto. The far-out planet, distant and weird, has spent the last 16 years crawling through your skies and briefly quits in spring when it moves onto Aquarius. However, it's important to note that Pluto will be sitting on certain Capricorn birthdays for a couple of years yet – January 19 specifically, and while that is no reason for fear, some of you may be tying off a lot of loose ends over 2023 and 2024, especially if you are involved in the power games of the elite.
Aquarius and Aquarius rising
It's been a long haul – two years and more – but come mid-March you are finally rid of Saturn's attentions and emerge a leaner, wiser creature for the experience. The ringed planet is making a dash for the exit as the year opens, with birthdays between January 12 and 18 put under pressure, after which congratulations are due; you have shed a skin, and life in 2023 promises to proceed on a lighter note and be, a more thrilling ride. First there is a little untangling to do. Mars in kindred air sign Gemini finally returns to forward motion in mid-January, allowing you to set relations straight with a friend or lover and to complete the half-finished canvas in the back room.
You have a new Moon in your sign on January 21 (Top birthday) to help you pick up speed and with Mercury ending one of its pesky go-slows, you are set up for quite a dash through spring. While Saturn skulks in your cash zone (no hand-outs just yet then) Jupiter is speeding through fiery Aries to keep your social life humming and your business interests responsive. Two new Moons in Aries – including a total solar eclipse – suggest there is an overhaul due to your communications and skills set. Upgrade! Jupiter's move to the root of your solar 'scope in mid-May moves your agenda on to the infrastructure of your life; home, house, family, the possibility of relocation or expanding Aquarian Acres. Also active in Taurus in the first half of 2023 is Prometheus, often touted as your planetary co-ruler, a planet all too prepared to shake up home, career or a settled relationship and especially focussed on birthdays between January 5 and 12.
However, where relationships are concerned, you face an unusually long spell with Venus in opposition for four months (as opposed to the usual three weeks) between early June and early October, a transit that in itself guarantees that whatever the weather, you face a personal long hot summer. With both Venus and Mars in opposition in June, sparks look set to fly, bringing a fiery attraction worthy of Richard Burton and Liz Taylor perhaps, or the deepening of an existing relationship. Partnerships of all stripes come under the spotlight, not only romantic ones – business partnerships, double acts, whatever. Venus's retrograde in August may spell second thoughts for some of you or bring an old lover back into contention.
You won't be allowed to bask in romantic bliss indefinitely. The remainder of your 'scope, in particular your career path, is highly active through to the close of the year, with November as a highlight; expect a job offer you can't refuse!
Finally, you will doubtless be hearing a lot of guff about the imminent Age of Aquarius, thanks to Pluto edging into the very beginning of your sign for a few months between March and June. Your astrologer's advice is to worry about Pluto when it fully arrives in 2025, but if you are a January 20 birthday, spring may offer you a fat clue as what's coming down the turnpike in the future. Sensors on, then, and jetpack to the ready.
Pisces and Pisces rising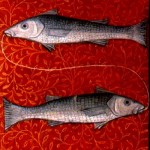 More than usual the early part of 2023 is a count-down to your birthday month, which this year sees Saturn, one of the cosmos' heavyweights, move into the Fishes' skies for the following two years, more of which anon. First comes a jumble of issues. Mars finally breaks loose from deadlock at the root of your 'scope and allows you to resolve issues concerning home, hearth and family that have been stuck over midwinter. With Mercury also waking up in late January, you can get your career wagon rolling once more. Venus passing through your skies in February adds a welcome touch of sweetness to your personal life.
Bigger issues kick off promptly on February 20 with a new Moon in your skies – top date for a birthday, the cue to engage with the most pressing issues on your agenda. You don't have time to fool around as Saturn, the planet of reality (including harsh reality) arrives on March 7 and will be forth and back in your skies for the next two years, the first time the ringed planet has graced Pisces since 1993-95.
Saturn favours seriousness and responsibility above pleasure, rewarding hard work and dedication. Big breakthroughs arrive especially with career and property matters, but little is achieved without graft. The crucial thing is to take the long-term view and take difficult decisions. This year Saturn is leaning directly on February birthdays – it goes into reverse at midsummer – but its touch will extend to all Pisceans over 2024.
Happily, Saturn is not the only planet in play. Your ruling planet, Jupiter, is back in Aries, in your cash zone, until mid-May, and keen to keep you in credit. Thereafter the giant planet moves on to Taurus for a year, where it will oil the wheels of industry, enhance your skills set and smile on anything to do with teaching, communications, and that pesky internet. Stay in touch!
Across April and May, you also have the welcome attentions of Mars and Venus transiting your fellow water sign of Cancer, allowing you a few jollies, jaunts, and flirtations amid the steady thrum of industry. Your personal and romantic life does not disappear under Saturn – though it might seem that way at times. Mars pops up again come July, in opposition this time, to put you face to face with rivals. crushes, open enemies, and all points in between. Venus, however, remains in Leo for four long months, stuck in your zone of work – not an ideal place but at least it suggests that the day-to-day grind is less gruesome than usual. You may even get to decorate your studio or office.
Venus eventually finds its way into Virgo and opposition in October – a transit to turn your head or to snuggle down with your beloved – and with Mars in Scorpio (with an eclipse there, your personal life enters a welcome phase of animation as the year draws to a close.