We remain in eclipse season, with the total solar eclipse of April 20 (at the new Moon) followed by the partial lunar eclipse on May 5 (at the full Moon). As your astrologer pointed out last month, "Astrology is divided about what eclipses mean – revelation or cover-up – but the consensus is that they represent instability, and that sometimes the best thing is to do nothing until they are out the way."
Elon Musk was clearly not listening to astrologers, who would have advised that April 20 was a poor time to be launching 'the most powerful rocket ever built', the prototype of a reusable craft that will one day shuttle Musk between Earth and Mars, or wherever the Chief Twit plans to reside as master and commander of the solar system. Alas, his SpaceX Starship disintegrated shortly after blast off.
The launch had been delayed, otherwise one might wonder if the date had been deliberately chosen, for some people are eclipse fans – for example, the UK's royal family seems fond of them. Prince Charles' two weddings were both set for eclipse dates, though the second, when he married Camilla, was moved forward by one day (to 9/4/2005, the day after a total solar eclipse) in respect for the funeral of Pope John Paul II. Charles' marriage to Diana on 29 July 1981 was likewise close to a total solar eclipse two days later. Charles' coronation is similarly set for the day after the May 4 eclipse.
May has a couple of other significant dates. The tail-dragging Mercury retrograde ends on the 15th – after which you can spark up your spaceship – while a day later Jupiter ends its transit of Aries and begins a year in the skies of the Bull, whose implications for individual signs are considered below.
For some – folk fans – the most important date of all is May 1st, the herald of summer and a celebration of its fertility. Let loose the Morris dancers!
Celestial Events
May 5 – Scorpio Full Moon and partial lunar eclipse at 17.34 GMT
May 8 – Venus moves into Cancer.
May 17 – Jupiter moves into Taurus.
May 19 – Taurus New Moon at 15.58 GMT
May 21 – Sun moves into Gemini at 7.09 GMT
May 21 – Mars moves into Leo.
Mercury is retrograde in Taurus until May 19
Saturn spends all month in Pisces.
Uranus spends all month in Taurus, moving forwards.
Neptune spends all; month in Pisces, moving forwards.
Pluto is retrograde in Aquarius, about to move back into Capricorn on June 11
Taurus and Taurus rising
Feeling lucky, Bull? You should – after all it's your birthday. Furthermore, Jupiter, the big planet with the big plan, arrives in your skies at mid-month to grant you bonhomie for an entire twelve months, along with what sporting types call the rub of the green. Jupiter's mission, should you accept it, is to think big, elevate your ambitions and, even if you fail, to enjoy the quest. Travel, wisdom, justice – these are Jupiter's watchwords. Lashings of good company and fine feasts are desirable but optional.
So, pause for a deep breath and the making of a plan, the formation of a strategy. The rush doesn't start until the 17th, when Jupiter arrives, while before then you have to handle a lunar eclipse in opposition on the 5th (a potential relationship showdown), plus Mercury is chugging backwards until the 19th, perhaps requiring you to revise your plans, also suggesting you revisit times and people from your chequered past. The new Moon of the 19th (the month's best birthday) gives you licence to thrill – yourself first and foremost, but given planets strewn around in friendly water signs, you are unlikely to be without vibrant company. If you are looking for a downside, then birthdays circa May 10 are in line for an upheaval, thanks to planet Prometheus on your case. It may not even be a downside, but a change, yes. Happy Birthday.
Gemini and Gemini rising
Ambiguity – your favourite thing – rules during much of May. On one side comes the Sun in Taurus alongside a retrograde Mercury, your totem planet, all of which spells schemes behind the scenes, whether they are of your own making or otherwise. It's time for a catch-up, time to take some rest. On the other side Venus in your skies until the 8th oils the wheels of your social life and makes great aspects to similarly sociable Jupiter. Don't overdo things.
Best see mid-month as a welcome lull. There is work to do, especially if you have a May birthday, in which case you are being pushed by Saturn to achieve greater things professionally. This can be a triumph, but not without graft. Once the Sun arrives in The Twins on the 21st, you are back in business, in the driving seat. On the same day Mars arrives in Leo, a sign whose fire feeds your air, and one that figures prominently in your affairs this summer. If you have connections to education, the media or the digital realm, get weaving.
Cancer and Cancer rising
There's a backdrop of uncertainty in operation in the first half of the month, what with your totem planet, Luna, being eclipsed (and in a fellow water sign), plus the usual inconveniences of a retrograde Mercury. But as they say with a shrug in The Sopranos, hey, what are you gonna do? You are well equipped to ride out any bumps in the road, with high energy Mars in your skies until the 20th, and with Venus also arriving on the 8th to carry you through to June in style, the only real drawback is having the cash to go with living it up Venusian style. Keep your eye on the prize, whether that's an 'A' star at work or a hot date.
In the latter instance the cosmos may have a surprise or two in store. Prometheus breaks new ground this summer, and with it the chances of sudden departures and arrivals in your personal life increase. If you were, for example, thinking of divorce, this wouldn't be a bad moment to announce it. Or, if you get that funny feeling inside whenever he/she walks in the room, go right ahead and ask for the next dance. This could be kismet!
Leo and Leo rising
Loosen up – early May promises flux, change and a degree of uncertainty. There's a lunar eclipse, one involving Prometheus, the lightning bolt planet, plus the usual low-key challenges of a retrograde Mercury, and a new Moon – all involving the 'life path' zone of your horoscope, This is the place you interact with the powers that be and where you find your public. Adopting an entrenched position at work is not the best policy – evaluate events and await the second half of the month.
Several major planetary events change the planetary landscape around the 21st. Jupiter arrives at the apex of your 'scope to win you the ear of the good and great – this is a year long transit so there is no rush, but this is an opportune moment. Simultaneously your Sun ruler moves into Gemini, a less demanding position for you and warrior Mars arrives in your own skies to grant you all the vigour you need to get your professional mission back on track. Your personal life is about to change too. Next month Venus arrives for a stay of four months – opposed to the three week norm. Wowsa! And if you believe in that in vogue fictional force named Black Moon Lilith, the wild woman, she has just moved into your sign for a long hot summer.
Virgo and Virgo rising
Be among friends. Be a bright-eyed member of the team, and if you don't have one, build one. People power is your great asset in May, thanks to Mars and Venus lighting up the zone of fellow travellers and trading. Other plans may be in 'what now?' mode as your celestial ruler, Mercury, continues its backward slide until the 19th. Revise, replace, reconsider…these are the activities that, ironically, move you forwards just now. The lunar eclipse of the 5th adds to the sense that the first phase of the month doesn't scream 'Breakthrough'.
The second phase is a different proposition. Jupiter, planet of the lucky break – and law, publishing, philosophy and travel – moves into your fellow earth sign of Taurus on the 17th, Jupiter's new position asks for a renewal of your personal quest over the next twelve months and grants you favours to realise it. On the 21st the Sun hits the peak of your 'scope to return you to the hard-nosed business of making your career sing, and with Venus onside, as much looks eminently doable.
Libra and Libra rising
The good news is that with the month of Aries out the way – and hence the Sun is no longer in opposition – you can begin to recover your famous poise and boost your energy levels. However, the month of Taurus is not without complications, looking like a tricky matrix of financial issues, emotional challenges and existential 'what's it all about?' soul-searching. A lunar eclipse against a backdrop of Mercury in reverse motion means answers to difficult questions are provisional.
Let things settle. You don't need answers to all your problems in the short term, and from the 5th ruler Venus hits the peak of your 'scope to remind you that being seen to be successful sometimes calls for a bit of bluffing. Dress accordingly.
Scorpio and Scorpio rising
'Stay in the moment' may seem strange advice during a spell of retrograde Mercury – old acquaintances and old business are likely in the air, after all – but the tectonic plates of your horoscope are shifting. The eclipsed full Moon in your skies on the 5th is a Big Deal, perhaps presaging closure in a long-term relationship or the end of another cycle in your affairs. Planet Prometheus in opposition, is also involved in this eclipse, so changes may be sudden and profound.
You can take a deep breath once Mercury returns to forward motion in the 15th, which coincides with the arrival of Jupiter in opposition for the next year, and the arrival of ruler Mars at the apex of your 'scope for the next six weeks – both important signals. Jupiter's message is simple enough – find joy in your relationships and if it/they aren't delivering, look elsewhere. Someone swell and well-heeled would fit the bill nicely!
Mars reaches the peak of your solar chart – Leo – every couple of years to keep your high-flying ambitions on track, but in June Leo will also host Venus for a four month spell when 'see and be seen' makes a handy mantra. Might as well start how you intend to continue.
Sagittarius and Sagittarius rising
Milk your good fortune while it's there – meaning ruler Jupiter remains in Aries until May 17, inviting you to live la dolce vita and spend more money than you intend. The giant planet's subsequent position in Taurus for the next year is good for hard work and steady progress; less thrilling but no less necessary. All things in balance.
The month of Gemini, as ever, calls attention to one-on-one relationships, but here the running is being made by Mars and Venus in your fellow fire sign of Leo, where Mars transits from the 19th. Venus follows for a four month spell in June, making a case for a summer of grand passion and, perhaps, for long distance love. There is much to discover, but until the lunar eclipse is out the way and Mercury has started to behave, it's all a little murky. Patience.
Capricorn and Capricorn rising
You are facing an overload of planets in Taurus; normally a good thing, this being a fellow earth sign and the zone of passions, parties and sporting excellence. And so it may prove in May, a random factor being that lunar eclipse in Scorpio on the 5th, which may spell a sudden end to a romance or an equally startling entrance – one way or another, it looks like a patch of stormy weather, yet with Venus in opposition for most of the month, you don't look lacking in suitors.
In the short-term things may be confusing, Mercury being retrograde, but not for long. Jupiter moving into Taurus on the 17th is as sweet an omen as you could ask for, illuminating and expanding your heart's desires over the next year. Decide what you most want and pursue it with renewed vigour. The new Moon of the 19th gives you lift-off.
Aquarius and Aquarius rising
Until the 15th, when Mercury stops retreating, you may feel like you are walking through mud and treacle. Decisions may have to be delayed or revised, and seemingly random events – or those that in retrospect have been a long time coming – may interrupt your composure. It's eclipse season. Oh, and Taurus being a fixed sign, like your own, people with whom you are experiencing conflict are likely to be just as obstinate as yourself. If you want to dig in your heels about something, make it your home situation – with Jupiter arriving at the root of your 'scope on the 17th, better and bigger living space is promised.
The month of Gemini looks more to your taste, this being the sign governing your heart strings and recreation. Even so, with Mars in opposition from the 21st, it's not without its combative moments, especially on that very day, when Mars opposes Pluto. Tread softly.
Pisces and Pisces rising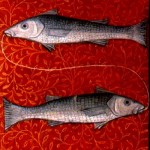 The lunar eclipse of the 5th is in a fellow water sign, Scorpio, and since it's also a full Moon it looks like the end of the line for one particular association, whether it's personal or business. With Mercury going backwards opposite the eclipse, you should be left in no doubt if you are coming to the completion of a cycle; any departures may prove sudden.
Looking forwards, the other big news is your ruler Jupiter moving from Aries into Taurus on the 17th, a more congenial sign for its year long transit. Opportunities arise under Jupiter – so-called lucky breaks, though they have usually been won on merit. Don't confuse them with the rewards you win the hard way, under Saturn, for which February birthdays are toiling right now; property concerns are likely to be involved.
In the short term, from the 5th, here comes Venus in your zone of parties, high jinks, schmoozing and flirtation. See what you can do to live up to its demands.
Aries and Aries rising
All good things come to end, including big-hearted Jupiter leaving your skies on the 17th, but that still leaves you a couple of weeks to seek fame and fortune, especially if you are a birthday 15-20 April. Not everything needs to happen at once – you can sow the seeds of the future and harvest later. Jupiter in Taurus promises to be good for your finances in any case.
Some Rams may still be assessing the fall-out from the total solar eclipse at the new Moon of April. The lunar eclipse of May 5th is it partner, and emotionally at least, promises to be quite intense, perhaps involving the end of one particular affair or arrangement. When one door closes, another opens however, and the arrival of your ruler, Mars in Leo's skies on May 20 opens a summer long spell where the demands and delights of your heart take precedence over mundane and practical matters. Things move quickly from this point.