It's the season of Libra, which is customarily described as the sign of balance, as if its Scales are always in harmonious accord. Well, if you're lucky! More often the Scales swing back and forth in a process of evaluation. For the first three weeks of October Mercury, planet of cognition, is sliding backwards through Libra's skies, describing a mindset of prevarication. Mercury Retrograde is an optimum time for catch-up, for old business rather than new, and in this case, for making your indecision final, at least until the full Moon of October 20.
Mercury aside, October's planetary picture is one of re-awakening. Saturn, Jupiter and Pluto all resume forward motion (from our perspective on planet Earth) – turning 'direct' as astrologers like to say. With these three back in business, any tea-break you've been enjoying is definitely over. The full Moon of October 20 looks like something of a wake-up call.
---
You can now buy Your Stars 2021 for just £2.99.
Now on sale, this Sun Sign forecasts for the year 2021 is available for purchase. 'Your Stars 2021' comes as an online PDF package, which you can then save and print. This 17,000 word report covers all 12 Sun Signs with a 2,086 word introduction to the year.
Its worth reviewing the year as we move into Autumn, hence the report is now on sale.
Your Stars 2021 Report On Sale – Neil Spencer
---
October Major events
October 6 – New Moon in Libra at 11.05 GMT
October 7 – Venus into Sagittarius, Pluto turns direct in Capricorn
October 11 – Saturn turns direct in Aquarius
October 18 – Jupiter turns direct in Aquarius
October 19 – Mercury turns direct in Libra
October 20 – Full Moon in Aries at 14.57 GMT
October 23 – Sun into Scorpio
Libra
Lazy Libra or pushy Libra? October is unlikely to be your simplest birthday month since your skies contain two contrary energies. Mercury retrograde is downbeat and unresponsive to new initiatives while Mars' approach is up-and-at-'em. The third planetary presence – your birthday Sun – asks for little more than to watch the autumn leaves fall, to pen a nostalgic song about them, and to scoff a large slice of the cake you normally deny yourself.
Your legendary ability to balance contraries – along with reducing your commitments – will doubtless see you through. Two major planets re-awakening in your fifth house (Saturn and Jupiter) – promise an agenda of play, creativity and parties that endures well beyond October. Keep hold of the biggest, most optimistic plan that's in your mind's eye. Mercury's backslide notwithstanding, the new moon of the 6th is empowering, especially for that day's birthdays. The full Moon opposite you on the 19th/20th can be a handful and calls for a light touch around partners and competitors; no shouting allowed.
The last ten days of the month are about both catch-up and squaring up to challenges, whether practical and emotional. Also, to pull off a coup in your career or engage the attentions of a potential lover. Your Venus ruler is nicely sited in Sagittarius from the 6th onwards; friends, neighbours and siblings are all onside and rooting for you. Happy birthday.
Scorpio
October may well have exhausted even your predilection for emotional intensity and romantic drama (or any old drama actually). Venus in your skies has finished clashing with other planets, but she doesn't move onto The Centaur until the 6th, long enough for you to squeeze more passion from her transit and perhaps enjoy quieter Venusian moments, taking tea at your favoured art gallery for example.
The middle section of October, until the Sun opens your birthday season on the 23rd, also favours quietude. A sticky Mercury is retrograde alongside your Mars ruler in the secluded twelfth house; perfect for revising your novel in a gothic tower (or rehearsing your moody next album in a handy cellar, you get the idea) but less so for orchestrating your life course. That kicks in once the Sun reaches your skies. Actually, orchestrating your life course – taking the big bold decisions, perhaps locking horns with one or two people -becomes pretty much inescapable over the course of late October and all of November, with the Sun and ruler Mars (from Halloween onwards) squaring up to Saturn, Prometheus and Jupiter. November is totally boom time!
With as much in mind, use mid-October to think through strategy and tactics and clear the proverbial decks. Asteroid Ceres is in your skies if you fancy a few home improvements. The full Moon of the 20th is a reminder to get down to work, while immediately afterwards an exalted Luna moves opposite you to start the weekend with a socially distanced hug or two. Or an argument, but only if you insist.  
Sagittarius
Your birthday seems to have come early this year. You have fair Venus in your skies from the 6th onwards, bringing gifts (or at least some retail therapy) and allowing you to radiate peace, love and goodwill to the world at large, and to one or two individuals in particular. You look especially popular on the 10th.
What's more, for most of the month you are flanked by peers, chums and support groups. That's a plus, even if some of them prove forceful or needy, while a retrograde Mercury may usher in further complications. Keep arrangements crystal clear. Don't over-promise. Your obligations cannot be endless; October is principally about little old you and where you find satisfaction.
That your ruling planet, Jupiter, wakes up at mid-month (after months backsliding) is a cue to relish good company but also to shrug off folks who cramp your style. With Jupiter active, by the way, international contacts or travel are also highlighted this autumn.
The season of Scorpio, beginning on the 23rd, may prove a more muted affair, with Venus leaving your sign on Guy Fawkes night. With ruler Jupiter reactivated in Aquarius, however, there will be plenty to keep you occupied before your birthday rolls round.
Capricorn
You'll likely have to put on a display of frantic activity at work, even though your chances of getting ahead with tasks are not high. Mars at the top of your 'scope is all energy and purpose, while a retrograde Mercury asks you to stop, consider and find a missing document. And also, to change your mind and your tactics when necessary.
Colleagues and fellow travellers are, however, onside during much of the month; certainly, while Venus is in Scorpio, until the 6th, and again once the Sun reaches the Scorpion's skies on the 23rd. November promises a far easier ride with career matters, so prevarication during this Mercury retrograde is no bad option. November, with Venus in your skies, may also be a better hunting ground for those of you in the dating game.
Two other developments deserve your attention. Ruler Saturn moving forwards along with Jupiter, both in your cash zone, suggests you get the best of both worlds financially; prudence allied with a windfall, simultaneous saving and spending, a trick that probably only a Capricorn could pull off.
Pluto, often a demanding planet, also returns to forwards motion in October, though the distant speck moves so slowly it's back where it was at the start of the year, and birthdays circa January 15 may feel likewise. Pluto represents power, however, with the proviso that you use it with moral propriety. Capricorns, despite their reputation as hard heads, are most often munificent.
Aquarius
The two planets that have dominated your year – Saturn and Jupiter – both turn to forward motion in October. The pair are complementary; Saturn plays bad cop, Jupiter good cop. Saturn will be reasserting its authority for the next nine months – a healthy respect for rules and hard work is called for – while Jupiter – expansive and confident – motors forwards to leave your sign at the new year. Plenty of reason, then, to put your best foot forward and plan for a couple of months of largesse, travel and jollity.
Planets elsewhere in your 'scope are all in favour. A lunation in Libra, a fellow air sign, alongside Mars is gung-ho for adventure, the only drawback being Mercury's annoying retrograde, which requires you to have two plans up your sleeve and check every timetable with care.
Planets at the peak of your 'scope meanwhile ask for public displays of grace and competence; Venus until the 6th, the Sun from the 23rd, with an intense November career wise, coming up behind.
Venus's move into Sagittarius on the 6th is handy, for hanging out with your gang, for networking, and even for finding a date in what may seem an unpromising pack. Remember; Jupiter is about optimism.
Pisces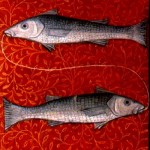 Even the enchanted land where many Pisceans dwell is not immune from a retrograde Mercury, and as the communication planet is transiting your zone of assets, alongside Mars and new Moon, the capacity for financial confusion is in place. There again, so is the capacity for a helpful overhaul – as summer may have shown you, you can come out ahead!
Because the eighth house of one's 'scope is oddly mixed up between assets and intense relationships (money and sex – maybe not so odd), hot romances may also be a feature in October, be they new, existing, returning or clandestine. Talking of romance, Venus is onside for you (in Scorpio) for the first six days of the month, thereafter, moving to the peak of your 'scope to help you shine in public.
Scorpio being an obliging sign for Pisces (both water), the Sun's arrival there on the 23rd is also good news. By then, Mercury's dithering is over while the full Moon of the 20th in your cash zone hopefully represents a bulging purse. Just before then, over the weekend of the 16th/17th, Luna is in your skies to help you live it up and advertise yourself.
Your ruling planet, Jupiter, remains behind the scenes and somewhat introvert, but awakes at mid-month to move forward and arrive in Pisces in time for the new year. Nice!
Aries
Consider the other party; the friend or lover who draws out aspects of yourself you don't much acknowledge; the competitor who shows you sides of yourself you don't much care for. The Sun is in opposition from your partner sign Libra – as it is every year at this time – along with Mars (your ruler), which is less frequently found in league with the Sun and a retrograde Mercury.
Under these stars, other people come first. Not necessarily as a priority in your life – though that too, partners need to be shown appreciation, and wannabe lovers attended to one way or another – but as people who are reflecting your own character and values. Just now, with Mercury retrograde, you can learn much from them, perhaps via endless chatter and philosophising. With Mars in detriment and opposition until Halloween, you are not, frankly, much empowered to take the initiative in proceedings.
That changes as October progresses. Venus in Sagittarius from the 6th is a light in your romantic life, perhaps one sparkling from a long way off. And as Pluto, Saturn and Jupiter resume forward motion, career issues come usefully, if relentlessly, into focus.
Your annual full Moon in Aries arrives on the 20th, pushing you, willy-nilly, into the limelight. Time for a bit of self-glorification, in the nicest, most modest way, obviously.
Lastly there is messenger Mercury to consider. The tiny planet is in opposition all month, and in retrograde until 18th. Mercury encourages you to talk until you drop, to maintain dialogue at all costs, whether it's sweet talk, veiled threats, idle gossip or plain reason.
Taurus
Whether it involves irresistible attraction or sudden disillusionment, handling significant others looks like a major feature of recent and future weeks, and with your totem planet, Venus, still in opposition from Scorpio until the 6th, finding accord with you-know-who is still one hot topic for early October. Prometheus resident in your own skies suggests you loosen up and forgo trying to micro-manage personal affairs.
That same message is underscored later in the month when the Sun arrives in the scorpion for a month of opposition, with feisty Mars following on at Halloween. This is quite the recipe for an autumn of intense, off-on relationships, so tread carefully and start how you mean to go on.
Meanwhile, lunation in Libra alongside Mars and a retrograde Mercury, shows where you find relief from any emotional stresses – in the world of work, where there seems to be a lot of catching up to do, and in a committed health regime.
For Taureans, the full Moon of the 20th is behind the scenes, and may illuminate a secret or two, whether your own or another's Immediately afterwards, Luna arrives in your skies (where she is 'exalted' as astrologers like to say) to big you up over the weekend of the 21st and 22nd. If you have a birthday circa May 15, this could a moment of unusual power. Enjoy.
Gemini
It's waltz time, or alternatively time for a spell of go-go frugging. You can take your choice. Either way you will need a dance partner, which currently doesn't look so hard to find. Venus (and asteroid Juno) in opposition from the 6th are all about people to whom you are inexplicably drawn, and vice versa. It doesn't have to be a major crush, just someone with whom you can do the twist, the tango, the bony marony or your dance of choice (pop tradition holds there are a thousand dances to choose from).
Simultaneously, Sun and Mars are in your solar fifth house (i.e. Libra) – the place you create, and where you show others how to have a good time. With these two transits raging way – plus a new Moon on the 6th – you are pretty much obliged to mix it up socially, to win the odd prize athletically or aesthetically, and remind people what a live wire you can be. With your ruling planet Mercury is retrograde for most of the month suggests that previous efforts to win over a suitor can be revisited, or that a lover/friend from the past show up.
Demands for concrete, here-and-now achievement will come soon enough. Saturn and Jupiter are newly awakened in your kindred air sign of Aquarius, and while both are nicely aligned for The Twins, they still expect delivery on the practical realm – shall we say Christmas for a deadline?
Cancer
Later in the month, on the 23rd, the Sun arrives in Scorpio to renew your ardour and raise your spirits. Until then, you may feel as if you are trudging through treacle, given the combination of Mars and a retrograde Mercury in Libra. Mars is something of a moody presence here, while Mercury may stir misunderstandings into the mix. You may feel misunderstood, even by folks who are meant to be on your team. Hey ho, you have to be on top form, not reacting to provocation, taking an objective view. The new Moon of the 6th should help you do so, while by the full Moon on the 20th, Mercury straightens up and Scorpio's season is a hop and skip away.
Of the three heavyweight planets moving out of retrograde in October – Jupiter, Saturn, Pluto – the first two concern finances and how to cannily squeeze more from your assets, especially from formalised arrangements with banks and partners. An ongoing theme until new year.
Pluto in opposition can be something of a monster – there's not much room for compromise when it rumbles. In October Pluto is back where it was at the outset of 2021, with birthdays circa 16-17th most in focus, with transformation its theme, even if that passage through pain, depression and rejection requires your deepest energies. Pluto doesn't like the light, so stay on the sunny side.
Leo
As the old song suggests, let's accentuate the positive. So yes, Saturn and Jupiter remain in opposition and are out of retrograde, and issues (and people) that were driving you to distraction earlier in the year (spring, probably) are heading back in play. And as you may have noticed, Saturn delights in finding your weak spots.
On the other hand, a lunation in airy Libra has your personal team gathered around you to protect and nurture, and to put old acquaintances in your orbit. Best of all comes Venus, the goddess of relationships, romance and art, in the fellow fire sign of the Centaur (your fifth solar house) from the 6th October. What and who delights you is what matters thereafter, on into early November. Lead from the heart.
Jupiter in opposition has much the same message. While not a relationship planet like Venus, the solar system's giant represents swell people who are or may become allies. It won't hurt to cultivate contacts with the so-called great and good, as Jupiter moves on come Christmas. Jupiter here can also give you itchy feet if you are in relationship that has outlived its best days. With Saturn also here for a year or more, some of you are going to have to be patient and work out partnership issues. At present, it's January birthdays first.
Virgo
And breathe! Doubtless you enter October with a packed agenda and a willing mindset, but your stars are sluggish, or rather your ruling planet, Mercury, is in retrograde, foot-dragging mode until the 18th. At worst this is merely irksome, but with several planets in readjustment this month, it won't hurt to take stock and to return to old and unfinished business rather than crack on with something new.
Mercury is alongside Mars and a new Moon in Libra, which is Virgo's cash zone. Overhauling the spreadsheet, looking for loopholes and doing your accounts all fit into this lunation, which ends with a full Moon on the 20th, again bringing assets (especially jointly held) into the spotlight.
Saturn and Jupiter resuming forwards motion is less exciting for you than for some other signs; both planets remain in steady-as-she-goes work mode, which for Virgos is pretty much business as usual. Pluto also resumes forward motion; a potentially empowering moment for birthdays circa September 15. Does someone owe you a favour- perhaps of a corporate nature?
Where you can squeeze joy and excitement is from the emotional sign of Scorpio. Venus here until the 6th promises a rich social life, and once the Sun arrives in Scorpio on the 23rd, the flux of friends (and potential lovers) increases by the day. In November you may be struggling to maintain the pace.