"We are all tennis balls to the stars just now," I was told in May, by a high-flying businesswoman, who is also an ace astrologer. It has been a very intense spring for many people, worldwide. But the eclipse season of May is behind us, and while events 'triggered' by major astrological cycles have a long tail, June presents a less alarming picture.
Your astrologer must apologise for the tardiness of June's forecasts. Even smart alec astrologers get foxed by Mercury Retrograde, which ends on June 3rd. We don't get back the start of the messenger planet's cycle – i.e., where it started retreating until June 18th. We are on the back of a new Moon in Gemini from May 30th, and with the Sun and Mercury also in the twins, the month has a speedy rather than entrenched feel. Mars and Jupiter in Aries ensure that. The warrior planet is in its own sign of Aries here, in 'bringer of war' mode – or less hostile mood, in 'let's the damn job done' mode.  The antidote is love and light from Venus, potent in her own sign of Taurus.
June also sees Saturn, Neptune and Pluto draw to a halt, inviting consideration and digestion of what has already happened this year. The other member of the Big Four, Prometheus, continues its slow but forceful presence in Taurus, the sign of nature, nutrition, harvest. Prometheus in Taurus signals both climate change crisis and ingenious new strategies to co-operate with nature – at the bright end of the spectrum come new green technologies while at the other end come Frankenstein foods and genetic meddling.
The Solstice, one on the hinges of the astrological year, arrives at 10.14 BST on June 21: sound the druidic trumpets, bang a gong, get it on.
 Gemini
There's no time like the present, at least once you are past June 3rd and your boss planet, Mercury, straightens up and flies right. Even then Mercury doesn't regain the Twin's skies until June 14, so there looks much unravelling of knotty matters to be done. After the 14th you are in greater control and on the 23rd you get the annual visit of fair Venus when, if all due procedures are followed, you unleash your party animal.
The full Moon of June 14th doesn't look stormy, unless you make it so, but for June fourteen days could be the turn of a page to a new chapter. The presence of Jupiter and Mars in fiery Aries is a forceful but friendly omen, accentuating your abilities as a team player. Everything to play for then if your cause is righteous. Happy Birthday.
Cancer
Bumps in the road are nothing to fret about. There are likely to be a few in early and mid-June as Mercury settles down and the Sun occupies the twelfth house of your solar 'scope, a place of contemplation and healing. You have to leave space for tour inner party animal, however, what with Venus being in Taurus and making a psyche-shaking conjunction to Prometheus around the 12th. Furthermore, naughty old Black Moon Lilith – if you find her useful – is in your skies to make you witch or wixar of the month.
Mars and Jupiter at the peak of your 'scope emphasise your career and the acumen you have gained so far, making June a time to see and be seen, and to swank around with the allegedly great and good. the new moon in Cancer on June 29 aligns cannily with Jupiter, 'the greater fortune' as tradition has it, and looks like a doorway to greater success not just in June but for the next six months. Jeepers!
Leo
Brighter skies are calling, calling, perhaps from afar. But first there is the weighty matter of Saturn drawing to a halt in opposition, from your partnership zone. Being put through your paces by Saturn is not for sissies- strained relationships, strained finances, more responsibility, worrying elders, hard-won promotion are the issues that Saturn signals, and which now call for blunt evaluation. June is a good month to remind those higher up the career totem pole that you offer both graft and charm.
The further good news is that Mars and Jupiter in fellow fire sign Aries suggest escape routes are on offer, either by travel or by mental ingenuity. Your Sun ruler is meanwhile warming up your social life, and even when Sol crosses into Cancer at midsummer, Venus is on hand to offer something that looks suspiciously like a party.
Virgo
You have options. Firstly, comes a new Moon at the peak of your solar chart, which after three weeks of ruler Mercury in retrograde should feel like a sigh of relief. Public prowess and a clear career path are on offer but call for a public profile. Even when the Sun has moved on to cancer – a more comfortable site for you – Venus is atop your scope from the 23rd to ensure that charm takes you far.
Prior to that you may prefer to head off to further shores for a spot of rest and recreation, or for a spot of dutiful study. Your shout, but throughout the month there looks money to be made. Jupiter in your zone of shared resources asks for, and rewards, ingenuity.
Libra
Big projects – the kind that take months and more to pull off – are stage centre. With Saturn stationary, completion is paramount. Your 'scope is in a complicated mood, however. Two powerful planets in opposition – Mars and Jupiter – call for a recalibration of existing relationships, romantic or otherwise, while you must also handle new associations coming down the track. Grand, pushy types are to be welcomed – cautiously, obviously -. In all instances you are somewhat on the back foot, so open enmities are to be avoided.
The season of Gemini, a fellow air sign, is in your favour and events are speeding up. The 9th and 10th look especially busy. Ruler Venus moves into the Twins on the 23rd, and with the Sun simultaneously cresting your solar 'scope, you are likely to be answering a lot of questions and to be held accountable! Turn up your Libran charm beam to eleven.
Scorpio
One-on-one associations, romantic or otherwise, are at the forefront of June's stars. For one thing there is plenty of untangling to be done after three weeks of Mercury retrograde and a couple of eclipses. Make sure you and your other half are on the same page, that business deals are mutually understood, that brazen enemies can be kept at bay. Venus in opposition is a welcoming transit, however, and when the planet joins Prometheus on the 12th, may produce romantic sparks …or big-time disruption. It's a case of understanding your own feelings as well as theirs.
Work and money are useful distractions and are required interests anyway, with ruler Mars cracking the whip. Saturn is the other planet calling for a settlement – don't lose sight of your major ambitions. If your birthday is circa November 16 the pressure is definitely on just now, but once past mid-month, the load lifts.
Sagittarius
Alert: Sagittarian full Moon on the way on June 14; not the full crazy variety perhaps, but lively enough and if your birthday is circa December 15 then you're shedding a skin. Pace yourself throughout June; there's a messy Mercury retrograde to clear up, to settle misunderstandings and get fully operative. As your astrologer pointed out last month, the arrival of ruler Jupiter in fiery Aries is high class juju, especially as it's accompanied by an intense Mars. This combo hands you your mojo and asks you to use it. In other words, you're empowered; a rocking summer beckons.
At the equinox you swap the Sun in opposition (energetically demanding) for Venus, a more casual and seductive proposition, and if you are a single Centaur, you are entitled to fancy your chances. The precise nature of your living arrangements remains a matter of uncertainty, of course, but for many of you that's not news. June is a good time to get perspective.
Capricorn
Demands on your time, expertise and supportive nature are flooding in… but then so are opportunities. Your Saturn ruler just stopped in its tracks, so a deep breath is in order to assess and even resolve some of 2022's issues (the obstinate kind). Simultaneously comes a volatile mix of Venus and Prometheus in your solar fifth house to keep your creative imagination fired and your romantic life rich. The two planets meet on the 16th to mix in some craziness. Find some parties.
Add to that mixture the graft you uncomplainingly put in and it looks a busy month. The Sun moves into opposition at the Equinox, as always, with a new Moon on June 29 to reset your relationships. Here your astrologer feels obliged to mention that Black Moon Lilith – a wild and elemental force allegedly – is in opposition all month, so if you fancy a walk on the wild side, opportunities await.
Aquarius
With ruler Saturn in your skies coming to a halt, the big demands of 2022 are briefly intensified before easing off. A lighter atmosphere is incoming, but first understand the burdens placed on you this year and mark your own homework, so to speak. Good news is the passage of the Sun through your fifth house of leisure and positivity to invigorate you – catch some rays – with Venus following from the 23rds to spice up your social and romantic life – the sort that in the darkness of mere months ago you feared you might never see again. Enjoy.
Adding summer fruitiness are Jupiter and Mars, sweetly sited in fiery Aries to spark fanciful ideas – under Saturn it's 'needs must' rather than 'what if' – and deepen your skills set. Jupiter is also the planet of travel, short journeys or long. Itchy feet anyone?
Pisces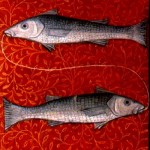 The only planet in your skies remains Neptune (there forever seemingly) but you do have a pair of asteroids – homely Vesta and intimate Juno, the latter closely aligned to Black Moon Lilith, a notional planet that's a combination of female empowerment and, indeed, getting your freak on to use popular parlance.  Also onside is Venus, strong in Taurus, all of which paints a picture of a cosy and relatively stress-free June.
The Sun in Gemini is the planet that's testing you, questioning your stamina and at the full Moon of the 14th pushing you into the limelight. The Equinox brings easy waters to navigate, with the Sun in Cancer and a new moon on the 29 that has money etched into it. That's Jupiter for you – whether you are acquiring or spending it is another matter. Probably both!
Aries
Without wanting to provoke you into any precipitate or foolhardy action, just now you look a lot like king or queen of the cosmos. Actually, Jupiter is more presidential than royal, but the planet remains a mighty force and lends you wisdom, daring and abundance. Plus, you have the Ram's totem planet, Mars, racing through your skies to set your own blood racing. The downside to this combination is over confidence and boorishness – you may need a friend to give you a heads-up if you err.
There's left-overs from May to sort out, of course, probably financial in part, but with the Sun in airy Gemini, the world looks in c-operative mood. The full moon in fiery Sagittarius on the 11th aligns sweetly with mars. Even better is the way the new moon in Cancer on the 29th, aligns with Jupiter. If you are looking to relocate or change things up domestically, here's a moment to get earnest about it.
Taurus
The good news is that with fairy godmother Venus in your skies until the 23rd you can be the Taurus of your choice, muddy gardener, star chef or poised economist. Good idea to sport your best frock anyway, pile on the charm, you know the score. Mercury is still bogged down in Taurus until the 13th; some of you have a lot of mopping-up to do, and eclipses in one sign and opposite are always a tad fraught. Saturn, meanwhile, is about to give you a rest, but not before you address the issues that have in 2022 proved the most intractable.
So, swing on. After Venus leaves you the Sun is in the watery Crab, which suits you just fine. The new Moon of the 29th aligns with Jupiter, which is in an intuitive, even mystical position. Listen out for a message.