A reader (Miranda) writes: 'I'm bemused why you you've apologised for your horoscope being late, when they are nearly always late!'
Mea culpa! So, I won't bother with excuses. Still, sorry.
Another reader (Gilly) asks: 'Where is the November horoscope?'
Here you go…
Cosmic Events
The Sun moves from Scorpio to Sagittarius on November 22nd.
The New Moon in Scorpio arrives on November 13th.
The Full Moon in Sagittarius arrives November 27th.
Mercury moves into Sagittarius on November 10th.
Venus moves into Libra on November 8th.
Mars is in Scorpio until November 24th, then into Sagittarius.
Jupiter is in Taurus retrograde.
Saturn is now direct in Pisces.
Prometheus is retrograde in Taurus.
Neptune is retrograde in Pisces.
Pluto is direct in Capricorn.
Scorpio and Scorpio rising
With Mars in your skies until the 23rd, this should be a birthday season with plenty to celebrate – and perhaps a little to regret if you don't reign in your appetites a little…just a tad mind. Astrologically you are empowered, and the new Moon in your skies on the 13th is supercharged for change. As it opposes the wayward planet Prometheus, what comes roaring down the highway of life may be unexpected, but nothing you can't handle. If you want to turn things upside down, go right ahead, but make no unnecessary enemies while doing so (sometimes Scorpio can wield an acid tongue). This new Moon arrives with Saturn at the very beginning of Pisces, and your fifth house of creativity, romance and recreation, so decisions now are likely to have long term consequences. Next month sees the arrival of Venus in your skies, so you should be able to pour balm over troubled waters. Money is very much in the mix this month, and with Mercury in your zone of assets, here's a fine moment to polish of accounts in-between throwing the wildest parties in town. Happy birthday.
Sagittarius and Sagittarius rising
The month's principal action is in Scorpio, which in your solar 'scope represents retreat, rest and meditation (in your personal birth chart you may have planets in Scorpio that represent something rather more earth-shaking). Take the cue. However, Mercury in your skies from the 10th suggests you get busy with plans, paperwork, accounts and phone calls, all of which will be a way more uphill task in December when the communications planet turns retrograde. On the 22nd the Sun arrives in the Centaur  and on 24th Mars arrives thus moving you into overdrive, when enemies should beware, and significant others must be on best behaviour. The full moon of the 27th raises the stakes on both counts. Two other events are of note. Venus in Libra from the 8th makes for a lively social life (complete with admirers) while Saturn's halt at the very root of your chart means one project, especially to do with property can move forward.
Capricorn and Capricorn rising
See and be seen is the first motto for November. Venus at the top of your 'scope from the 8th favours you being before your public –however you like to define it. The most uproarious transit of the month – Mars in Scorpio – also concerns your place as a team-worker and mover and shaker among peers. Network accordingly and monitor the feedback after the new Moon of the 13th. Opposite the new Moon is the disruptive planet Prometheus, so a more personal friendship may buckle, or become more central to your plans. With the Sun and Mars moving into a more reclusive zone after the 22nd, a more low-key role may become appropriate, a time to figure out which of the gang most matters. As Mercury will be going retrograde in your skies in mid-December, a steady focus on organisation in November is urged.
Aquarius and Aquarius rising
A combative Mars in Scorpio turns up the volume on professional issues and may involve a scrap with one or other colleague. Playing the sensible good guy may not be enough to avoid a contretemps while you can prove as stubborn as the next fellow, especially around the 20th with a ripening Moon in your skies. Ditto matters relating to your domestic life. The situation is far from static. With your social life looking brisk throughout the month, by the closing week of the month, when the Sun and Mars move on, any antagonisms should fade. The full Moon of the 27th and 28th highlight your romantic life and your creative projects when both can be confidently confronted.
Pisces and Pisces rising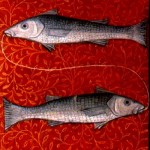 Busy month incoming. Your fellow water sign, Scorpio, is in high energy mode and you should follow its cue. Renew the pursuit of your personal quest, and if that means being pushy, so be it. Saturn, about to move forwards at the beginning of your sign, takes the brakes off frustratingly slow projects and calls for big decisions, the sort that February birthdays have likely taken already. The Scorpio new Moon of the 13th is a further call for action and exploration, the latter perhaps literally. The Moon reaches your own skies on the 20th/21st; two dates to be canny and forceful. A step change arrives on the 22nd when the Sun reaches the peak of your 'scope and insists you play to your public and/or your boss.
Aries and Aries rising
There are a couple of reasons to take November at a less furious pace than usual. Your governing planet, Mars, is deep into the other zodiac sign it rules, Scorpio, and therefore powerful (as Mars is when in Aries). Cue all things Scorpionic, intense feelings, secrecy, sex, money, transformation. All such matters are likely to require exacting negotiation, as well as bringing possible pay-off, but you can't wing it. Likewise, the transit of Venus in Libra and in your seventh house of partnerships from the 8th onwards – Venus rewards well-handled relationships but don't expect to get your own way. For singletons, the message is simple: shop around. October's eclipses suggested that there are fresh starts on the way.
Taurus and Taurus rising
Mars in opposition is often not much fun, suggesting you must handle someone's anger issues (and perhaps your own), while the new Moon of the 13th, also opposite, likewise prompts questions about your other half, an ex or a declared enemy. With Prometheus involved, there's likely to be change and churn in the air, and as we know, change is not always the Bull's thing. Still, in the first eight days ruler Venus brings a reminder of how sweet things can be, while with Jupiter still hovering in your skies, protection and help are never far away. Once the Sun and Mars move out of opposition on the 23rd, finances, especially those you share, move smartly up the agenda, while on the weekend of the 25th, the Moon in your skies puts you in the spotlight.
Gemini and Gemini rising
Both your Twins look to be full occupied in November, one with pleasure, the other with profession. From the 8th onwards, Venus – she's the pleasure planet – will be in romping through the zone of parties, celebration and creativity. All you have to do is show off and stay bright and future-oriented. Meanwhile, as you astrologer has mentioned previously, Saturn is at the peak of your 'scope and about to move forwards, spelling the end of some professional snags but also demanding you show your excellence. Your Mercury ruler is opposite from the 10th, ensuring deep dialogue with partners, pals and less personal acquaintances. The full Moon of the 27th is in your skies, ensuring a frenzied close to a busy month.
Cancer and Cancer rising
For most of November, family, cherished others, and projects close to your heart command your attention. The somewhat torrid activity in your fellow water sign Scorpio doesn't necessarily spell tranquillity in your romantic life – more likely is grand passion, new beginnings, intense activity with creative ventures and a desire to leave your mark on the world, or at least the small part of it you share with others. Time to stamp your foot and demand attention. After the 8th, with Venus strong in your family zone, peace and delight are there to be found at home, and in the redecoration of your lovely home. After the 23rd, that four letter word work raises its issues – no need for alarm, but graft called for.
Leo and Leo rising
As an old song has it, High Water Rising, and whether that is literal in your case or not, it makes an apt metaphor for the astrological picture mid-month, when a new Moon arrives – on the 13th – alongside a supercharged Mars and your Sun ruler, with all three opposite wayward Prometheus, things may become intense, wither on the home front or in your profession. You have to just roll with whatever situation is dished up – sure and steadfast is Leo's thing. That said, there are other elements in your 'scope that point to a lively, highly social month. Two key players swing into place early on: Venus in Libra from the 8th promises an appreciative audience with a frisson of romance in the mix, should you be interested, while Mercury in Sagittarius from the 10th puts you on the front foot with social and creative affairs. The arrival of both the Sun and Mars in the centaur around the 23rd hands you more control and more vava voom. Everything is to play for.
Virgo and Virgo rising
The big event for many of you is the turn-around of Saturn in opposition. At the very least it means the brakes some off where one particular venture is concerned. For those of you born in August it means you must reapply your energies to whatever has preoccupied you these last six months. For September birthdays it means you can expect to be put under examination in 2024 and beyond – any weaknesses will be probed. It's time to be lean and mean. meanwhile you have Venus smiling on you until the 8th, and some turbulent weather in Scorpio to raise your social profile and ensure that your personal ship is run in the orderly fashion you demand. Ruler Mercury transiting the root of your 'scope for most of the month is there to remind you that others can be as pernicity as you!
Libra and Libra rising
You are counting down to the arrival of your ruling planet, fair Venus, in your skies on the 8th, for a three week visit when you simply must be at your legendary Libran best; charming, delightfully turned-out, a perfect party animal except when you choose to be otherwise (did someone at the back say pushy and calculating?). Not that you will be immune from some of the month's rockier moments – say around the 11th. Saturn is not leaning directly on most Librans but said planet's turn to forward motion should help you discern which work paths deserve your attention. Planets in Sagittarius – Mercury from the 10th, the Sun and Mars around the 23rd – suggest you keep your social life speedy and varied.