The Autumn Equinox – or Spring if you are south of the equator – is one of the hinges of the year and arrives at dawn on September 23rd. However, the cosmos seems in no hurry to get there. Mercury in its own sign of Virgo is retrograde and dawdling until it snaps forwards on the 15th, in tandem with a New Moon in Virgo. With Jupiter turning retro on the 5th, six of astrology's celestial bodies will be slipping backwards in earth's skies; time to take stock and re-evaluate.
Apologies for the late arrival of this month's stars – your astrologer has been caught up in the travails of Mercury.  But onwards…
Cosmic Events
The Sun moves from Virgo to Libra on September 23rd at 06.50 GMT.
The New Moon in Virgo arrives on September 15th at 01.40 GMT.
The Full Moon in Aries arrives September 29th at 09.57 GMT
Mercury is retrograde in Virgo before moving forwards on September 15th.
Venus is in Leo all month, turning from retrograde to direct motion on September 4th.
Mars is in Libra all month.
Jupiter is in Taurus, turning retrograde on September 4th.
Saturn is retrograde in Pisces.
Prometheus is retrograde in Taurus
Neptune is retrograde in Pisces
Pluto is retrograde in Capricorn.
Virgo and Virgo rising
Sunk in thought and contemplation? Or swearing at the frustrations sometimes visited on one by a retrograde ruler Mercury in your skies? Try to choose option one, while keeping busy and putting your affairs in order. From the 15th, when a Virgo New Moon coincides with Mercury turning forwards, you are in excellent shape to bark orders, seize initiatives, seek favours and undertake some serious travelling. The season of Libra from the Equinox is largely neutral (though you may be able to earn more money or enjoy spending it), but Mercury keeps on delivering through to early October, when Venus arrives in your sign. All good then but watch out for the full Moon weekend of the 29th, when Luna is opposite and apt to cause confusion. Happy birthday.
Libra and Libra rising
As ever, you are called on to find a perfect balance, this time between ultra-private concerns – including disappointments and failings you must embrace (little easy there) and your outgoing, exuberant side – in astro speak, a balance between the twelfth and first houses of your solar 'scope. With both Sun and retrograde Mercury in the twelfth house, inner demons are hard to escape until the new Moon arrives on the 15th and Mercury straightens out. Yet with Mars in your skies all month, you have to crack on, show willing and be a bit flash. What unites both ends of the equation is self-sufficiency, especially once the Sun reaches Libran skies on the Equinox.
Scorpio and Scorpio rising
The two planets opposite, Jupiter and Prometheus, are both about freedom and excitement, and may have brought you as much in the last few months, perhaps in the shape of a new relationship. However, freedom cuts both ways and it may be a partner who has decided to cut loose. Since both these planets are now sliding backwards, the outcome should be clear in the first weeks of September. Mercury, another retrograde planet, this time in your friendship zone, turns round at the new Moon of the 15th, ushering on a very positive few weeks when there is massive support from your friendship group. Venus, meanwhile, continues to shine on professional matters. Your momentum is good, almost enough to see you through to October 12 when ruler Mars shows up and glories beckon.
Sagittarius and Sagittarius rising
The current retrograde of Mercury is unlikely to have been obliging for your career plans, but the turbulence is minor and ends at the new Moon of the 15th, after which you should start getting sensible answers to your questions. Throughout the month you have major support from both your posse of personal pals and your workmates, with Mars making you team player of the month. Venus moving forwards in Leo should shake the shackles off your romantic life, though you may need to wait until the full Moon in Aries on September 29th – this completing a triangle of fire signs – before all becomes clear.
Capricorn and Capricorn rising
The cosmos is smiling in your favour. Planets in earth signs like your own abound. And to ensure you take advantage of this scenario Mars is giving you a none too subtle elbow in the ribs. True, there's a certain amount of tail-dragging going on, inevitably with Mercury retrograde, but once the Virgo new Moon arrives on the 15th, when Mercury turns round, you are in business and hopefully on point. Plans for the medium term – until next spring at least – are in order. Even birthdays 17th-19th December, who have had Pluto relentlessly (and perhaps destructively) on their case get an encouraging wave from the Sun just before the Equinox. At that point the Sun joins Mars at the peak of your 'scope, to push career issue on. Those of you embroiled in romantic drama can finally draw breath now that Venus is out of its retrograde cycle.
Aquarius and Aquarius rising
You have been fielding Venus in opposition for the entire summer and the love planet hasn't finished with you yet, not until early October. With Venus now out of its retrograde phase, key relationships can now move forward in a less introspective manner. A lot of give and take is involved with the days around the 25th notable, when the waxing Moon is passing through your skies. September has other currents, of course; finances are in the frame and deserve detailed examination while Mercury is retrograde; you can come out a winner after the New Moon of the 15th. Then there is Mars in your kindred air sign of Libra; a call to action, to travel and to reset your horizons, with the Sun joining the red planet after the Equinox and affirming take-off.
Pisces and Pisces rising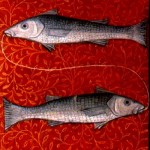 The Pisces full Moon of August 31st hopefully made any number of issues clearer. That process continues in September, as the Sun and Mercury continue in opposition, the latter in pesky retrograde until the New Moon of the 15th, which is the cue for a new initiative involving a partner, not necessarily romantic. Two heads or hearts in co-operation can produce splendid results. Ruler Jupiter, now in retrograde for three months, also remains keen on friendships and allies. The planet some of you have to handle, however, remains Saturn, especially if you are a February birthday, making mean and lean your style. Steady as you go on the 28th, good for fun and creativity, but not for hard-nosed decisions.
Aries and Aries rising
Bounding along or trudging along? Your horoscope offers evidence for both moods. The season of Virgo, this year complete with Mercury going backwards, is insistent about duty and detail and correcting past errors. However, the bigger picture concerns your emotional life and your special relationships. Venus, still in Leo, urges a mood of self-celebration – Aries don't need much encouragement in this regard – while ruler Mars in opposition puts one-on-ones firmly in the spotlight all month. Mars may arrive as a challenge, provocation even, or as a person to whom you are irresistibly drawn. In the former instance, avoid rising to the bait, in the latter, remember you sometimes have to give in order to receive. At the end of the month the annual Full Moon in your sign turns all such issues up to boiling point and/or resolution.
Taurus and Taurus rising
A pivotal month looms. Two major planets turn retrograde in the Bull's skies (Jupiter and Prometheus) calling for evaluation of events since your birthday, especially for those born circa May 6th and 14th.  Decisions decisions! The first half of the month promises something of a jumble (Mercury retrograde, pah!), but the New Moon of September 15th is a game changer and asks for your very best initiative, be that commercial or emotional. Taureans have a reputation of plodding along, but you can spring a surprise or two now, and with Mercury finally moving forwards, keep the initiative going. Jollity and romance may have to go on the back burner until October.
Gemini and Gemini rising
Your totem planet, Mercury, is sunk deep in your domestic zone and retrograde, turning thoughts, if not actions, on your home set-up and to the binds of family. However, you can't spend all month deciding on colour schemes. The New Moon of the 15th is a call to decision and enterprise in both home and professional matters. Meanwhile Mars spends all month in the most vivacious and creative sector of your 'scope, urging you to show out, play the entertainer and knock out a screenplay or three. The autumn Equinox doubles that imperative; dither and postpone to your later regret.
Cancer and Cancer rising
The joys of intellectual life call strongly this month – yes, it's a new term but with added importance. A New Moon conjunct Mercury on the 15th is a call to mental adventure and learning, and to re-invigorate your friendship circle where, it seems, some less than conventional people are keen to meet you. Somehow you must fit all this in with demands from your home and family – it looks rather noisy there this month, even if no actual builders are present – and from your profession, where the Full Moon of the 29th may cast light on your prospects. As ever, the autumn Equinox supplies a jolt to both your career and personal lives.
Leo and Leo rising
You now enter the final phase of the summer long presence of Venus in your sign – invariably a good omen, though with the romance planet going backwards over the last six weeks, some intimate relations may have been put on hold or plunged into misunderstanding. With Venus now moving forward from the 4th, resolution should be possible. And you may as well go for broke, throw a belated birthday party or otherwise big yourself up (Leos are good at it!). With Venus making positive aspects to planets in your career zone, you look dandy career-wise. Mars and your Sun ruler (from the Equinox) in Libra promise charm and friendship. Good times beckon.