December most often signals a headlong dash to the Winter Solstice on the 21st and the festivities of Christmas, without much astrology to get in the way. However, this year comes a total Eclipse of the Sun on December 4 – quite an event for some of you. Eclipses, like everything else up in the immediate heavens, run in cycles (your astrologer can't vouch for the regularity of black holes and the like), and this is the last eclipse across the Sagittarius-Gemini axis for some 18 and a half years. For the next couple of years eclipses will be in the Taurus-Scorpio axis, a subject for another time.
On December 19 Venus, which is always prominent in the Yuletide sky, turns to retrograde motion, en route to becoming a morning rather than evening star. The planet remains in Capricorn, a more than handy omen for the Sea Goat. December's other big event is the shift of Jupiter from Aquarius to Pisces. The giant planet – ever considered a good omen – has already dipped into the Fishes in 2021, but this time will complete its transit of Pisces, and in somewhat breathless fashion, in a mere four months. The implications of the shift are briefly considered in this month's forecasts.
I would like to wish all my readers a joyous Christmas and a happy, fruitful new year.
Major events
December 1 – Neptune in Pisces turns to forward motion
December4 – New Moon and total solar eclipse in Sagittarius at 7.43 GMT
December 13 – Mars into Sagittarius
December 13 – Mercury into Capricorn
December 19 – Venus in Capricorn turns retrograde
December 19 – Full Moon in Gemini at 04.36 GMT
December 21 – Winter Solstice, Sun into Capricorn at 15.59 GMT
December 29 – Jupiter into Pisces
Sagittarius
Eclipses mark turning points, especially if they fall on your birthday, so your full attention is required at the total solar eclipse at the new Moon of December 4. It's not about drama but about setting your intentions for a fulfilling future. Plant a seed, renew your resolution to shine. The eclipse pattern means this is the last eclipse in your sign in a sequence that goes back two years. and you now enter a new and less bumpy cycle. Planets are scurrying along to help; Mercury in your skies until the 13th and Mars arriving there on the 13th bring energy and urgency. Mars can be overbearing, so stay off your righteous high horse when handling people, not least at the full Moon of the 19th, a dizzy pre-Christmas weekend.
A far shorter cycle then begins, with Venus turning retrograde in your zone of resources for a few weeks to insist you buckle down to the minutiae of money matters and re-assess which from your collection of vintage guitars/rare editions you can do without. Chase what's owed to you. Do some re-gifting.
Ruler Jupiter changes sign on the 29th, moving to the root of your 'scope; home and hearth loom large in 2022, along with your renewed ambition.
Capricorn
You are firstly about Venus now. The planet of relating, l'amour, silk sheets and fine dressing is in your skies for a rare three months. At the same time, in December, the planetary fireworks – a total eclipse of the Sun, plus Mars from mid-month, are in Sagittarius, in your twelfth house, the zone where you find repose, reflection and mens sana in corpore sano.
That combination sends a clear message that it's time to absent yourself from stressful situations. Let others take the strain – you probably employ them anyway! – and enjoy yourself. That may include retail therapy, requiring you to raid the secret Capricorn vault for funds. Play the charmer. Fancy your chances with whom you fancy, get loose.
Will you pay the price, emotionally and/or financially? Possibly, since Venus goes into retrograde for a few weeks on December 19, when your dashing prince may turn into a frog, your princess into Cinderella, but you may as well flirt and fool around now and make sense of it all over yuletide. With the solstice on the 21st comes your birthday month, with whose profile, mixed in with festive celebrations, you will be familiar (the unfairness of it all – other people get two presents). You look in especially good shape this year with Venus and Mercury on your side along with the mighty Sun. With Jupiter changing signs on the 29th, it's time to circulate and sparkle.
Aquarius
Onwards at a steady march, stern of purpose yet full of joi-de-vivre, qualities urged by the two planets in your sign, respectively Saturn and Jupiter, though the latter won't be with you much longer. After a November that looked pressured, savage even, December brings a lighter note, with planets in fiery Sagittarius to inspire your airy self. A total solar eclipse there might involve one colleague's disappearance (retired, hurt in action), and conflicts that arose last month are not going away just yet, not with Prometheus squaring Saturn.
Yet with ruler Saturn strong in its own sign – yours – you look able to absorb and ground the wilder energies directed at you. Good, grown-up work! Can you maintain it for the next twelve months?
'Lucky' Jupiter leaves your skies on December 29, but not without a rewarding flourish across yuletide, a fat pay-off from Santa's sack, perhaps, or a glamorous freebie, or simply the rare presence of an inspiring personality.
Pisces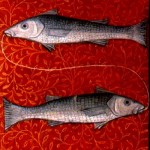 November should have left you in high gear, all adventure and derring-do, personally and professionally. With Mars still energising your 'scope until the 13th, you look ready to stay out of your comfort zone, despite any hard work involved. Your professional ambitions are currently nailed to the mast, with a new Moon cum solar eclipse atop your 'scope on the 4th, meaning the more profile and chutzpah you can muster, the better. When Mars arrives here on the 13th, professional relations may turn a tad gnarly – nothing you can't handle, but things could get competitive.
Your social life also looks to be in bloom, with Venus, sited in your zone of fellow-travellers and acquaintances, making charged aspects all month, not least to Neptune and asteroid Pallas Athene (goddess of capability) in your own Piscean skies. You should be able to conjure an enchanted moment or two from that. Gather your glee club.
Shortly after Christmas your totem planet, Jupiter, returns to your skies for an all too brief four month stay of pure empowerment. All good for 2022 then, but you need to be straight out of the traps!
Aries
Get your head up and peer fearlessly into the future. The Sun in Sagittarius – and its total eclipse at the new Moon of December 4 – is all about 'the vision thing', as Dubya Bush put it; seeing what's possible, what plans need to be jettisoned and where the next couple of months might take you. Your Mars ruler arrives in the Centaur's skies on the 13th to emphasise as much and, perhaps, bring an international perspective to proceedings. The 12th and 13th, with a waxing Moon in your skies, look serendipitous.
The Sun reaching the peak of your scope at the Midwinter solstice always asks for a public profile, but this year that demand is doubled by the ongoing presence of Venus in Capricorn. How about a spot of recognition for your sterling efforts over the last year, and the last month in particular? As Venus turns retrograde for a few weeks at the solstice, there is no harm in going over old ground and chasing up lost contacts, including perhaps, former lovers.
'Lucky' Jupiter has been helpfully sited throughout 2021 and promises good company across yuletide. Its shift into Pisces just after Christmas has a more contemplative quality to it, but in 2022 (and 2023!) the giant planet will move into your skies, a transit to relish.
Taurus
You are nearly through what may be proving a stormy, or climactic, few weeks, when Mars in opposition ruffled your feathers with significant others or with the powers that be. The red planet moves on at the 13th, which signals a calmer atmosphere. The total solar eclipse of December 4 lies obliquely to your esteemed sign, though its position in the zone of assets/money suggests there is more financial juggling to undertake. The days around the 15th/16th, with a fat Moon in your skies, may bring things into welcome focus.
The other major challenge of the month concerns Saturn, square to Prometheus in your sign and re-asserting the demands of career ambitions and/or property. A breakthrough is on the cards, especially for birthdays in early May. Make it so.
Can you fit some festive fun into the equation? Your ruler, Venus, in a fellow earth sign argues yes, and the Solstice Sun likewise helps. Perhaps best of all is Jupiter's move into Pisces on December 29, the signal for a highly sociable new year – festive fun and the cue for some serious networking.
Gemini
A solar eclipse like the one on December 4 can be seen both as a pivotal new Moon, when one cycle ends and another begins, and as this is in the zone of relating, an ally or partner might be departing or arriving, or your attitude to him/her may be in flux. You have had several such eclipses over the last two years, so let's not get over-dramatic, but December looks packed with relationship intrigue. Ruler Mercury is in the oppositional mix until the 13th, after which Mars arrives in opposition to bring strong attitudes and challenging behaviour from significant others.
Add to that the full Moon in your own sign on the weekend of the 17/18th, and you look to have your hands full with one or more relationship tussles, where attraction and annoyance co-mingle (and as a Gemini you appreciate ambivalence). Dialogue is the key, since this pattern is in place for a few weeks into the new year. Talking of which, Jupiter reaches the peak of your 'scope just after Christmas, a place where movers and shakers in your career can be encountered and won over in the months ahead. Happy new year.
Cancer
Energised? Mars in Scorpio certainly is, and for the first half of the month remains in prime position for some early festive socialising, or for your creative pursuit of choice, unless work gets in the way. The solar eclipse of the 4th is in your zone of everyday graft so a change of outlook, not necessarily of your choosing, may be on the way.
More intriguing is Venus's ongoing opposition from your partnership sign, Capricorn, promising fine company for Christmas, the fluttering of eyelashes across laden tables perhaps, or, with your work head on, a new business deal. Plenty to play for there, especially on the 11th, when Venus meets Pluto, but keep a little of your enthusiasm withheld, as Venus rewinds from the 19th and plans and affections can change, or someone may choose to bring some unnecessary drama into play. Your ruling planet, the Moon, is in your skies on the 20th/21st; a good moment to give your instincts full reign.
Jupiter's change of sign to fellow water sign Pisces on the 29th is an uplifting omen for the new year, deserving of your most positive intentions.
Leo
There's a restless quality to December's stars. Two or three cycles are simultaneously coming to a close, while matters may not entirely be in your hands. There's certainly an unpredictable quality to the total eclipse of your ruling planet – the Sun – at the full Moon of December 4, and you may like to sit back a few days as it passes. The eclipse – the last in this part of the zodiac – is in your fellow fire sign of Sagittarius and the zone of creativity, romance and high jinks, where Mars also shows up from the 13th to energise these areas of your life, i.e., making you the life and soul of the party.
There's thus an obvious danger of burning the candle at both ends across the festive season, since Venus asks you to reassess your health regime and general well-being, while Saturn maintains its demands to run a tight ship and keep wandering wolves from your door.
Jupiter is moving out of opposition come the 29th – whether said planet has enriched your relationship life this last year or uncoupled you from a partnership. In Pisces the giant planet is more of a calming influence, and with your co-operation may even ease financial constraints.
Virgo
The chances of having your affairs buttoned down, prim and proper are not inordinately high in December – which is another way of saying expect some bumps along your trail. A solar eclipse in Sagittarius, near the root of your 'scope, is one reason – while the lights are out the scenery can shift, and with ruler Mercury in The Centaur until the 13th, and Mars arriving there the same day, you may have to draw a few lines in the metaphorical sand to make clear what behaviour, or terms and conditions, you are willing to tolerate. You can't – or rather shouldn't – just play the dutiful drudge and accede to orders. Birthdays circa September 4 take especial note.
Talking of birthdays, those of you born around September 13 have a reactivated Neptune opposite your Sun just now – whether that means a dreamy arrival or a confused dynamic with a partner (or nothing new, since the planet has been floating around in opposition for several months) remains to be seen.
Venus in Capricorn (in your zone of recreation) would not normally be classified as a bump in the road, but the opposite, an omen of good times and hot crushes. However, the planet turns to retrograde shortly before Christmas, and one or two misgivings about a relationship might ensue. Or your idea of what constitutes 'a good time' may undergo a change. Or a former beau or belle may waltz back into your world.
Talking of which, Jupiter moves into opposition for a few months on December 29, promising to take one particular relationship to another level, or to introduce you to a major player in the new year. Enjoy.
Libra
You look in outgoing, even showy mood up until Christmas, when a couple of planetary shifts suggest a change of outlook. Ruler Venus passing through the zone of home and hearth is simple enough, especially for this time of year, beautifying your already lovely home, basking in the adoration of your family, that sort of thing. Venus turning retrograde on the 19th shouldn't send any shudders through you, though you might decide that designer paint you just applied to the hallway is, dammit, the wrong shade after all. Let your indecision be your friend over yuletide.
Planets- including a solar eclipse in Sagittarius – are likewise no cause for anxiety, emphasising the need for swift action, fresh ideas and a meaningful journey or two (more than a commute, then). The full Moon of the 19th has much the same message.
Adding dash to December is Jupiter, which finishes its year long transit of your fifth house (recreation, showing off, romance) with a flourish across the festive season, be it a special present in your stocking or you splashing out in extravagant fashion to give others a good time. Demonstrative, creative, joyous – that's you! In its new position, from the 19th, Jupiter asks you to tone down excess in favour of humble hard graft. Huh! But at least you'll get the job done.
Scorpio
Swagger boldly on. You might as well, given ruler Mars is in your skies until the 13th. Your birthday month was unusually intense and some of its developments will call for reflection – at which Scorpios excel, almost to a fault. But just now isn't the time for over-thinking or self-doubt. Go with your gut feeling and figure out the events of November and early December during the holiday season.
Your pole star remains Saturn at the root of your chart, meaning practical and material issues get priority, not just this month but during a long 2022. Partnerships will just have to trundle along for now (though Mars favours the carnal beast in you, woof woof), and given November's lunar eclipse, some of you might already have put one particular relationship out of its misery. But with Venus so helpfully sited, especially around December 19 (at station conjunct Pluto and sextile Mars, fact fans), none of you should be without good, possibly flirtatious company.
December's planets, dominated by those in Sagittarius, ask you to turn to financial affairs and material infrastructure, and how you can make the most of available resources. However rich or broke you are, get a plan – you won't want to be carrying financial anxieties into 2022, which looks a pacier, more pleasure-oriented affair than 2021, but one whose potent eclipses suggest wholesale change may be unavoidable. Jupiter arriving in Pisces just before the New Year fizzes with the promise of excitement.