The solar system's planets never falter in their course around the Sun, but they often seem to go into reverse, a result of their relative speed from our wonky viewpoint on the blue planet, Earth. Currently, however, all eight major planets are in forward motion to earth eyes, which to the astrological mind explains why, after a sluggish start to the year, there seems to be acceleration of events. Where did January vanish?
February maintains the momentum, with March hosting even more significant celestial events, with two slow-moving  planets, Saturn and Pluto changing sign. Meanwhile February has its challenges – mostly Saturn-centred – and its delights – mostly Venus and Jupiter centred. Valentine's Day comes with an appropriate planetary signature – an exalted Venus joining Neptune in Pisces, which is as soppy (and slippery) as it comes. Peace, love and clarity to all my readers.
Celestial Events
February 5 – Full Moon in Leo at 18.29 GMT
February 18 – Sun enters Pisces at 22.34 GMT
February 18- Venus enters Aries at 07 56 GMT
February 20 – New Moon in Pisces at 07.08 GMT
Mercury spends the first ten days of the month in Capricorn, then moves into Aquarius.
Venus is in Pisces until the 18th, then into Aries.
Mars spends all month in Gemini.
Jupiter spends all month in Aries.
Saturn spends all month in Aquarius.
Prometheus spends all month in Taurus.
Neptune spends all month in Pisces.
Pluto spends all month in Capricorn.
Aquarius and Aquarius rising
For many of you it's a time of completion, of finishing-up the projects that have preoccupied you these last two years (including property matters) and settling into a breezier, more convivial routine. However, birthdays between February 15 and 18 are only now feeling the full weight of the taskmaster planet, and new measures, perhaps drastic ones, may be needed. Think long term. All of you can do with an early spring clean to jettison possessions, and even people, that you now see are surplus to requirements. Brutal, you? When need be, yes!.
February is certainly a lively month for Urn Bearers, with an especially fevered full Moon shining on the weekend of the 4th/5th. With planet Prometheus strong in the mix the mood is restless, and events surprising – in a good way one trusts. If you are nursing a crush on someone, Mars in your fifth house (pleasure, romance) suggests you take bold action this month and next.
Post full Moon you can proceed in a more organised manner. Mercury the communicator is in your skies from the 11th until early March – talk, write, broadcast, record. The Sun's conjunction with Saturn on the 16th is the last time these two bodies meet in your skies for another 28 years; a time to wrestle seemingly intractable problems into manageable shape, to think hard about any fresh commitments (realism required, don't busk it) and to find time to celebrate completing another year on planet Earth. Happy Birthday.
Pisces and Pisces rising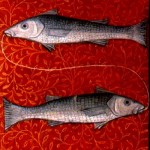 Bear in mind that you are not fully empowered while the Sun is behind the scenes – until the 18th – and simply polish off whatever you can without forcing the pace. The first exception to that rule may be at home in Pisces' Palace, where Mars is back up to speed and you are playing catch-up with domestic events and problems from as far back as September. The other exception is in your personal life. Venus – in your skies until the 20th – allows you to turn your charm beam to full strength. Be around lovers and friends, do some flirting, paint, create.
The new Moon of February 20th opens a more business-like phase. This is one of the year's pivotal moments no less, when you make a resolution to fulfill a major ambition, and get hard-nosed about realising it. Think hard about where you want to head professionally. Saturn is about to enter your skies, in early March, and make clear the issues you must confront. Don't prevaricate, don't under-estimate the scale of any problems – or your ability to fix them! Get a bit leaner and meaner.
At mid-month the Sun meets Neptune, the distant planet that's been in your sign for years (since 2011) and which at best lends you star-like glamour and at worst drags you into the nether world that stardom sometimes brings. A frank talk with a friend or therapist may give you the needed perspective, especially for birthdays circa 14 March.
Aries and Aries Rising
The most salient thing to keep in mind is that Jupiter is racing through the ram's skies until mid-May, and that the big guy of the solar system rewards enterprise, positivism and a big-hearted attitude. Also keep in mind that they aren't the same thing as bragging and can-do recklessness. Jupiter is also the planet of wisdom, which is the quality you are seeking.
February is helpful. The full Moon in fiery Leo on the 4th/5th smiles on your show-off side, as does ruler Mars, now back up to speed in Gemini. Planets in another air sign, Aquarius, notably Saturn, lend dealings with friends and fellow travellers a more formal character, where business and pleasure are likely to come mixed-up. A bit of masonic-style hand-shaking may be involved.
The month of Pisces, from the 18th, is ideally more low-key  as your own birthday month has a slightly manic quality – one that will suit many of you just fine! Beside, with Venus in your skies after the 20th, a little luxury and canoodling are in order.
Taurus and Taurus rising
Saturn at the peak of your solar chart means business and has meant it for the last two years. The planet's final few weeks here is a time to sign off on professional and/or property matters wherever you can, especially around the 16th, when the mighty Sun joins Saturn. Hopefully, at this point you also get pay-off for all your efforts over the previous 24 months – you have earned it. Talking of money, that Mars in your cash zone is finally rolling forwards after a lengthy lockdown hopefully signals the liberation of fresh funds, and while Mars here is as much about spending as saving, at least you get cashflow.
Then there is the action in Pisces – your Venus ruler is here until the 18th, after which the Sun – and a new Moon take over. As water to your earth,  Pisces is a place of nourishment, a zone where you locate and lean on trusted fiends (and lovers) and more informal associations  people who you consider 'on your team'.
Gemini and Gemini rising
In a hurry? Like Lewis Carroll's white rabbit, you should be. Ruler Mercury is only now breaking loose of its retrograde spell. Then there's Mars in your own skies, finally back up to speed after months of dithering. However, keep in mind that old adage, 'More haste, less speed'. Calm and methodical is the preferred approach, cerebral and analytical even. It isn't that you lack passion (Mars is fiercely emotional) but aspects to Aquarian planets favour a cool mind, not a hot head, while you don't want to be needlessly rubbing up people the wrong way.
A step change arrives with the new Moon of February 20, which is at the topmost point of your solar chart, where you are most exposed to the public gaze, hopefully in a positive way (rather than, like certain Gemini politicians, having your misdeeds paraded). This could augur well for your career, as the very end of the month, with Luna in The Twins, may confirm. However, the latter part of February, and on into March, highlights the favours you can get from allies and being a team player, and if you are in the dating game, from shopping around.
Cancer and Cancer rising
You may have to tough it out with a few issues/ individuals in February. There is only one planet in opposition, but Pluto in the final degree of Capricorn can dredge up a lot of ancient secrets and resentments (birthdays circa 22 July take especial notice). Plus, with Saturn entering the last degree of Aquarius in your eighth solar house – sex, passion, money – you may have to dig in your heels with someone trying to take advantage. The 3rd and the 16th look likely dates for a showdown.
That said, you have some dishy transits going on – Venus, 'exalted' in Pisces, smiles on your social and romantic lives, and the new Moon in The Fishes on the 20th has the potential to open up new vistas for you, not least for birthdays circa 22 June. Ongoing at the top of your 'scope is Jupiter a very canny omen for your career and/or public performances – neither is quite a pushover this spring, more a challenge, though on that responds to you pushing back. Stay tough.
Leo and Leo rising
The good news, the very good news, is that Saturn is about to end its two-year opposition from Aquarius. But before it does so there is a final clash, with your Sun ruler next to the taskmaster planet on the 16th. Before that, the Sun opposes the full Moon in your skies on the weekend of the 4th/5th.
This makes February a month when partnerships are tested, perhaps to breaking point, especially perhaps, associations that began a year ago around your birthday. Whether you stick or twist is your shout (or not, as the case may be), but it's a high water mark in one-on-one relationships. If you have any open enemies, keep an eye on them. Just to make things more complicated, that full Moon comes with Prometheus involved, said planet being one for bolt-from-the-blue events. No snoozing then, especially for birthdays circa August 8.
Further good news remains that your kindred fire sign of Aries is stacked with planets and asteroids, most importantly Jupiter, meaning that for you, spring starts early, and you should dash into March head high, tail up and a grin on your face – or is that a growl?
Virgo and Virgo rising
Being a tidy, organised sign (though there are always a few backsliders and chaotic collectors), Virgoans do not like loose ends, and with two major planets about to change sign, there are likely a few to tie off. Saturn's imminent departure from your 6th house (work and best practice) signals a change of routine, perhaps a new workplace. Pluto is about to leave your fifth house (recreation, romance) which may also find you finishing a major project. All endings are, of course, also a fresh start, something underlined by a new Moon at the beginning of your partnership sign of Pisces on February 20th, plus Saturn's arrival in opposition from The Fishes in early March.
Whether all this amounts to a smooth transition of lifestyle, lover or property or something more abrupt (unsought even), change is blowing in. However your horoscope is also full of the here and now. Mars is ripping across the roof of your 'scope to accelerate your career path (which has been somewhat stuck over midwinter), while a potent Venus in opposition until the 20th, is all about warm togetherness in an existing partnership or the allure of a new romance. Valentine's day, with Venus next to Neptune, is all glamour and, just possibly, all deception.
Libra and Libra rising
Planets in the zodiac's other two air signs make February a dynamic month. Mars in Gemini renews your personal quest – a project where you don't have to compromise – while the Sun, Mercury and Saturn in Aquarius help you touch base with life-as-it-is, with all its imperfections, damn them. Thanks to Saturn, work – organised and probably hard – will solve many of your dilemmas both this month and this year. 'The harder I work the luckier I get,' as Thomas Jefferson may have said. For many of you, completion is the name of the game.
That said, the happy hand of fortune may also have a part to play. Jupiter in opposition enriches your partnerships (providing you don't overspend) while the arrival of your ruler Venus in opposition should bring out the full-blown romantic/dizzy fool in you (delete as appropriate). Mutual attraction is, of course, what you are seeking – the perfect balance – but with so much action imminent in your opposite sign this Spring, you may have to give rather more than you feel you are getting. All of which leaves you little room for loafing or for introspection. Stay alert and keep going.
Scorpio and Scorpio rising
The full Moon weekend of the 4th has the ingredients to overheat a situation and to make you feel that they are coming at you from all sides – as they may be!  A career crisis or a relationship switcheroo may well be involved. However, let the wind whistle over your head while you stay grounded – home is currently a safe haven, even if you have plans for an imminent relocation.
Besides, the zone of recreation, romance and creativity is positively glowing throughout February, thanks firstly to an exalted Venus passing through Pisces until the 19th – exalt yourself a little, why not, especially on the 12th and 13th, when Luna is in your skies.
Venus is followed by a New Moon in the Fishes, ready to further wash away any blues and put you on the front foot. In the midst of a fast-changing month, there is also money to be made, however improbable that seems. Your Mars ruler insists!
Sagittarius and Sagittarius rising
With a planetary picture that is a mix of the serious and the carefree, you'll need to stay on your toes. For starters there is mars in opposition, meaning partners can be grumpy, angry or exiting or somewhere in between (and your open enemies extra nasty). Romantic relations  – or the search for them – are not a single thing in February, however, and you are definitely not in deadlock mode, which may have been the picture over winter. Your fellow fire sign of Aries continues to host your ruling planet, Jupiter – a transit for optimism and joy – and on Valentine's day the giant planet makes a sweet aspect to Luna in your skies. Venus joins Jupiter on the last day of the month; a cue for living high on the hog as they say across the Atlantic pond.
The more business-like side of things concerns Saturn in Aquarius, and the Sun's conjunction with the ringed planet on the 16th; the cue to ensure that any legal affairs are in order and that your personal infrastructure is purring nicely. Saturn moves on early in March, which should help resolve any ongoing ambiguity about your domestic situation.
Capricorn and Capricorn rising
Two years with your ruler, Saturn, in your cash zone may have tested even your estimable ability to make money whatever the economic weather, but the ringed planet is about to move on. First, however, there is something of a reckoning, thanks first to the full Moon of the 5th, and then the Sun meeting Saturn on the 16th. Best run your eagle eye over that familiar spreadsheet one last time to ensure you haven't missed anything.
That full Moon is mixed up with Prometheus in your zone of recreation, so a sudden arrival or departure from your social or romantic life – could be an exciting weekend. The month of Pisces, beginning with the new Moon on the 20th, and preceded by a transit of Venus through the fishes, augurs well for wheeling, dealing, running round the 'hood, and making peace with siblings and neighbours. By the end of the month the desire to upgrade and expand Capricorn Hall – an ongoing theme – may become urgent.