Many astrologers have been holding their breath to see what might transpire when Pluto moved into the skies of Aquarius for the first time since 1778, with the more excitable talking of the fabled Age of Aquarius. The distant planet has merely edged into airy Aquarius for two months, and on June 12 slides back into earthy Capricorn until 2024 but its presence in Aquarius – a cold, dispassionate, scientific sign at worst, though humane and enlightening at best – has coincided with sudden alarm about what the growth of Artificial Intelligence might visit upon the world.
A.I. has been cooking for a while, but developments expected to take decades have suddenly become imminent, hence the debate about A.I.'s future has suddenly rocketed into warnings of Armageddon and science fiction scenarios in which machines take over from Humans. Such warnings have come not least from those most active in the development of A.I., so are to be taken seriously.
The debate about Artificial Intelligence in its early days, but clearly another genie has escaped its bottle and is not going back, though it may be tamed. Watch this space.
With Pluto back in Capricorn we return to issues of autocracy, inequality and the war against the natural world – and the civil wars (mostly cultural and political) that are convulsing the United States during its 'Pluto return', whereby Pluto returns to its place in the USA national chart of 1776. Pluto's return was precise in 2022 but the planet retreats to within half a degree of exactitude this coming October. Ructions lie ahead.
June's stars are less alarming than those May – no scary eclipses, and no mega aspects now that the triangle of Mars, Pluto and Jupiter is breaking up, though Mars clash with Prometheus on the 26th is certainly no teddy bear's picnic. The summer solstice arrives on the 21st to the braying of druid horns and, hopefully, much merriment. I wish my readers a summer of delights.
Cosmic Events
June 4 – Full Moon in Sagittarius  at 3.42 GMT
June 18 – New Moon in Gemini at 04.37 GMT
June 21 – Midsummer Solstice at 14. 58 GMT, when the Sun moves into Cancer.
Mercury is in Taurus as the month opens, moving into Gemini on June 11 and into Cancer on June 27
Venus moves into Leo from Cancer on June 7 and will spend the next four months in the Lion, turning retrograde between July 23 and September 4.
Mars spends all June in Cancer.
Jupiter continues its year-long sojourn in Taurus.
Saturn remains in Pisces, going retrograde in The Fishes on June 18.
Prometheus spends the month moving forwards in Taurus.
Neptune spends the month inching forwards in Pisces.
Pluto is retrograde in Aquarius, crossing back into Capricorn on June 12.
Major aspects
June 5 Venus opposes Pluto.
June 11 Venus squares Jupiter
June 19 Sun squares Neptune
June 25 Mercury squares Neptune
June 26 Mars squares Prometheus
June 29 290 Sun trines Saturn
Gemini and Gemini rising
Action stations! First of all, of course, you have a birthday to celebrate, and given the ongoing passage of Venus and Mars through Leo, you are unlikely to be without loving company. Siblings, cousins and sundry relatives may have a special, supportive role to play this summer. Actual romance may also be involved, though first you have to negotiate the tricky full Moon of the 4th, when partners might prove uncooperative amid the usual lunar fever. On the other hand, could be a bonzer weekend.
More serious issues are signalled by Saturn, which spends June more of less stationary at the top of your 'scope, putting professional ambitions under scrutiny, especially for May birthdays. The taskmaster planet backslides until November, giving you plenty of time to straighten out any pans that are proving impractical, but it will be back thereafter – be prepared.
The new Moon of the 18th launches your enterprises and fancies anew – a top birthday – and with ruler Mercury in your skies between the 11th and the 26th, feel free to announce any initiatives. This new Moon is also conjunct asteroid Juno, signifier of soul mates…good luck! And Happy Birthday.
Cancer and Cancer rising
Venus in your skies until the 6th is a sweet start to June – everybody loves a lover – but since the first three weeks of the month find the Sun in the most reclusive zone of your horoscope, you might usefully take the hint and wind down ready for your birthday month. Preparation is the keyword. Not that your stars are only about turning hermit; as suggested last month, with Jupiter and Prometheus super active in the zone of fellow travellers, hitching your wagon to the collective or the team is one-way forwards. A determined, furrowed brow is also appropriate where money is concerned. Venus and Mars in your cash zone promise swift returns for your attention.
Once the solstice arrives, it's your turn in the Sun, though you have to wait until July 17 for a new Moon for true lift off. No matter, with Mercury in your skies from the 17th, plunge into the social whirl with all the vivacity you can muster.
Leo and Leo rising
Although June's stars are wildly favourable, you face a chance of burn-out if you pursue all possible agendas. Mars in your skies all month promises vigour but also impetuous moves. Perhaps with Venus alongside from the 6th you can balance energy with repose, as in showing off, sporting your brightest bling and geeing up those unlucky enough not to be born a Leo. There is plenty of audience to hand to admire you, not least around the full Moon of the 3rd/4th, a potentially wild weekend. Given Venus is with you for four long months (as is weird and wild Black moon Lilith should you believe in her), there may be a few of those in store.
Your professional life also remains under ongoing emphasis thanks to 'lucky' Jupiter atop your 'scope, offering you the chance to rub shoulders with high fliers and well-off (possibly vacuous) people. Plus, Prometheus is also here, perhaps to tear up your professional script if you have a birthday circa August 15. Give it all your best shot, lovers and fellow travellers alike, but once the solstice arrives, and your Sun ruler slips behind the scenes, factor in some chill time, especially since Mars is in gnarly mood in the final week of the month, and even you cannot be Sun Queen or King all the time. Can you?
Virgo and Virgo rising
Members of your sign are apt to take demands placed on them as a sign they are doing the right thing, and professionally, at least, that is probably correct. With Sun and, from the 11th, ruler Mercury crossing the roof of your 'scope, June's first priority is ensuring that your career path is being followed and your card marked approvingly. The full Moon of the 4th may bring a minor altercation at home.
Depending on your birthday you may have other demons to battle. Saturn spends the month in opposition to birthdays circa August 31, be it in the shape of property hassles, ungrateful bosses or just plain 'under the weather' feelings. Saturn's in retreat so you have time to prepare for a repeat performance elate in 2023 and early in 2024. Neptune is also stationary in opposition to birthdays circa September 20 – a subtle, even inspirational transit for many, but if you feel like you are lost in the fog, ask a friend for a reality check.
Things lighten up as June unfolds, with the sun in watery Cancer signalling a less pressured phase at work. with Mercury arriving on the 27th to speed up developments and bring fellow travellers onside. At June's close, the Sun makes a helpful aspect to Saturn; a chance to settle a dispute or to make a commitment to a partner.
Libra and Libra rising
In need of refreshment? It's been a fair old haul through the weeks of Taurus and the eighth house (death, resurrection, taxes) but here comes a blast of fellow air sign Gemini to drag your attention to a bigger picture, perhaps even involving travel, but in any case, putting your problems in perspective. With the Sun in the Twins, and Mercury following on from the 11th, dazzling displays of your intellect and charm are called for (no pressure then). That mood is amplified by your ruler Venus taking up long term residence in Leo, where good company and kindred spirits are assured. In both cases your skills are in demand – artistic skills (most Librans have 'em) and the skills of diplomacy. Librans are quite prepared to cause trouble when the dark mood is on them, but getting a team to work in harmony is a better manifestation of what your sign offers.
Much to enjoy then. Saturn, stationary in your sixth house of health, may be highlighting your Achilles heel and the need for TLC to balance the demands of routine work. Although Saturn is in retreat, allowing you a tea break from the slog, more professional pressure arrives once the Sun peaks your solar 'scope at the solstice to push you into the public eye. As in all things a judicious balance is what you are after.
Scorpio and Scorpio rising
Early summer has always looked unlikely to be the easiest few weeks of your year, if only because planets (and an eclipse) in your opposite sign of Taurus mean other people are calling the shots rather than little old you. Prometheus can be a force for huge and advantageous change, as birthdays circa November 14 may be discovering, but it inevitably involves disruption. With Jupiter also in opposition now – for a year – compromise and understanding someone else's viewpoint are called for. Partnerships can prosper under Jupiter and if they do the two of you added up the force of three. Persevere – Mercury's presence until the 11th lets you tie off any recent misunderstandings.
Just to make you suspect that they are coming at you from all sides, ruler Mars in Leo at the top of your 'scope is ramping up the stakes at work where, again, deals are better than digging in for the duration. Mars may arrive as a hothead – we have all experienced them – but note that this is a passing phenomenon, whereas Venus, which arrives on the 5th, will for once be sticking around all summer, allowing you to flaunt your charms to the widest possible public, to play diplomat at work and to claim stage and screen, should that be your profession.
The Sun's move into a fellow water sign at the solstice is both a calming influence and a welcome distraction, opening up your worldview, your contacts and your fascinations. Here, there is more to come in July.
Sagittarius and Sagittarius rising
Full Moon alert! The Centaur's annual turn in the full limelight arrives on the 4th and 5th; a fine weekend for high jinks but also for a falling out with someone close, so tread with care. As ever the season of Gemini is about significant others, and the new Moon here on the 18th offers a fresh start or perhaps even someone entirely new. The closer you can work with a partner, the better the outcome – just for the moment, yield a little.
June isn't only about one-on-one relationships; the relationship planets, Mars and Venus in your kindred fire sign of Leo offer a different social set, and the possibility of travel, and not just in June. With Venus here for four months, unexpected trip and creative obsessions hover enticingly. See what you can muster. The Centaur is ever restless. You are, however, required to stay focused on routine and work – your ruler, Jupiter, insists, while Saturn, stationary in your zone of home and hearth, is ensuring that your search for a stable home may be at last near resolution. At the end of June, the Sun makes a dazzling aspect to Saturn, when you can seal a property deal or otherwise settle issues about where, and with whom, you live.
Capricorn and Capricorn rising
Big emotional displays are not the Mountain Goat's customary thing, but you might get used to it this summer. Your 'scope's heart zone now hosts Jupiter – a demonstrative, easy-going energy – and Prometheus, the planet of abrupt change and 'just do it!'. This may prove fun, unsettling or both. At the same time, several months of Venus in the secretive eighth house of your chart an opposite impulse, intense, clandestine affairs included. The arrival of the Sun in opposition at the solstice, in the zone of significant partnerships, should clarify matters during July, when you have a full moon in your sign. Meanwhile, enjoy the ride.
Your feelings may not just be about people, of course, and a project that matters dearly would be another way to interpret these transits. Finances are not entirely separate from the emotional stuff. Venus is a money planet as well as a romantic one, and money problems may call for a complex solution- your speciality! -across summer, when Venus goes into retrograde. Pluto, which has put a tentative feeler into your cash zone this spring, now retreats back into the Goat's skies; likely no biggy for most of you but January 17-19 birthdays may find themselves in a power struggle. However, never bet against a Capricorn.
Aquarius and Aquarius rising
Members of your sign have not enjoyed too much downtime over the last couple of years – downtime is very rarely Saturn's plan. However, with the taskmaster planet now moved on, things can open up, certainly in June, when the Sun in airy Gemini lifts your spirits. The new Moon of the 18th gives you lift-off for affairs of the heart, be they for people or cherished projects. A good moment for a resolution.
Relationships and love affairs are also a major feature of June and beyond. Mars is already in opposition from Leo, a mix of provocation and seduction – an imperious presence attracts your attention and/or you have a ding-dong with an existing partner (or random stranger – Mars isn't bothered once the red mists descend). Venus in opposition is another matter, not least because instead of the usual three weeks the romance planet is here for four months. Cue irresistible attraction, dear friendship, the chance to make a mint with a business partner or a winning hand with your bridge partner – the only downside is the possibility of jealousy but make the green-eyed monster a stranger and all will be well.
Saturn, now well out of your hair, is in your cash zone, not a position likely to help with the bills, but a link to the Sun at the close of the month is perfect for a reality check and the stabilisation of funds.
Pisces and Pisces rising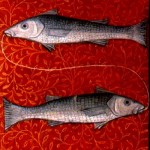 It's a mere three months since Saturn arrived in the Fishes' skies – two years to go! – but long enough for many of you – February birthdays for starters – to get a notion of its agenda. The ringed planet is static (more or less through June before a rewind until November, so time for a reality check, ensure work is done, dentist visited, property portfolio dusted down. That last item is underscored by the season of Gemini and a Sun and new moon in your zone of home and hearth. With Mercury also here from the 11th, June is about new brooms, dust flying, maybe a change of flatmate and Sunday lunch with the extended family.
More work: Mars and Venus in your zone of the everyday urges you to act like a Virgo and maintain a sensible, holistic routine. Stay busy. Pride in your craft is entirely in order. On a lighter note, your ruling planet, Jupiter, newly established in Taurus, and doing you big favours where fellow travellers are concerned. Be a team player – its captain if you so choose – Jupiter is presidential – or at least captain of your personal ship.
Play: The Sun's shift into Cancer at the solstice is, as always, a major reason for good cheer and optimism, for a Cancerian birthday party and for a burst of musical/poetic/artistic creativity, a mood that grows during July. On the 29th the Sun makes a splendid aspect to Saturn, showing you a path into the future.
Aries and Aries rising
With your undisputed ruling planet, Mars, in rampant position in fiery Leo until July 10, you are being asked to assume your role as leading man/woman and wow your audience. Be king or queen for a day, a week, a month or even longer, since Venus also arrives in the sign of royalty on June 6 for an unusually lengthy four-month residence, love is in the air, and if you are in the dating game, pursue all your options with a fierce appetite (this is fiery not dreamy remember). If you are the creative kind, get truly industrious.
June holds further delights; a full Moon in the third fire sign, Sagittarius, on the weekend of the 3rd/4 this just the ticket for an adventure, and the season of Gemini, with Mercury involved from the 11th should keep the social pot bubbling and bring siblings and cousins into play.
Downsides? Pluto's backslide into your tenth house of ambition might call into question a work project you thought done or dusted, while the Sun's shift to the root of your 'scope at the solstice brings home and family into focus. Otherwise, as some superhero says, Flame on!
Taurus and Taurus rising
There's a touch of destiny about June's stars, thanks firstly to the lunar nodes (eclipse points) moving on from the Taurus/Scorpio axis, just as Jupiter arrives for an historic stay. You only get 'lucky' Jupiter once every dozen years and while its presence doesn't guarantee success and riches, an optimistic outlook tends to bring a happy response. In June April birthdays are strongly in the frame for serendipitous events and a possibly unexpected touch of travelling
Talking of money, the new moon of the 18th, accompanied by Mercury, is ideal for getting to grips with cashflow issues. On the 6th, your ruling planet, Venus, takes up a four-month residence in your zone of home and hearth, where Mars is already situated. The red planet here is not about peace in the valley – more like the odd domestic dispute and a fierce attack on bricks and mortar issues, but Venusian energies are quite the opposite, bringing balm to disagreements and beautification to your already lovely home. Greens and blues are Venusian colours should you be stuck in the paint chart.
Returning to your own skies, planet Prometheus remains a potent omen of change, with birthdays around May 11-13 strongly in the frame in June. Taureans are not huge fans of change and perpetual revolution – leave that to Gemini – but you may find you have little choice in the matter and that the odd apple cart could well benefit from an upset. The Sun's shift into Cancer at the solstice does, however, augur a livelier few weeks ahead, and if you are having problems at work, the Sun's aspect to Saturn on the 29th should smooth things out.